A common idea in personal development circles is that "what you focus on expands."  For instance, if you're feeling sad, focusing your attention on your sadness will only make you sadder.  Instead, you need to distract yourself from your sadness by visualizing rainbows, playing with your cat, or doing something else to take your mind off what you're feeling.
In my experience, the opposite is actually true.  I've found that, when I turn my attention toward an uncomfortable emotion, or a place in my body that's tense, I actually find myself relaxing, and starting to put the discomfort into perspective.
Getting To Know My Back Pain
For example, as with many people, my lower back sometimes tightens up.  I used to buy the conventional wisdom that people just get "back pain" from time to time, and nothing much can be done about it short of taking medication.
Today, however, I have a practice for dealing with tension in my lower back that's worked wonders.  I just focus my attention on the discomfort.  I get familiar with where it is, whether it's sharp or dull, whether the painful area has a shape, and so on.  You could say I get intimate with it.
Does this practice "attract" more pain?  Not at all.  Instead, I usually find that the sensation I'm feeling begins to shift, and the tight spot begins to loosen.  By probing around in that area with my awareness, I get a sense of how I'm creating the tension, and often that's enough to have the discomfort fall away.
Feeling Into "Bad Feelings"
I've had the same kind of experience when it comes to "negative" or "uncomfortable" emotions.  In our culture, we're conditioned to think that, when we're "feeling bad," we should do something to push the feeling away — taking a warm bath, drinking alcohol, saying affirmations, or something else.
The trouble with running from an emotion we don't like, in my experience, is that pushing it away actually puts it in control of our lives.  The "bad" emotion, not us, ends up in the driver's seat.
Why?  Take boredom, for example.  When we're working on a task and we start feeling the discomfort we call boredom, many of us are in the habit of automatically doing something to "take the edge off" — playing Solitaire on the computer, Twittering, or something else.
But here's the problem:  if we, like Pavlov's dogs, automatically surf the web every time we feel bored, that means our boredom gets to control our work schedule.  If we don't have the ability to keep making progress in our work, even when boredom is coming up, we're basically slaves to our boredom.
The solution for me has been, instead of turning my attention away from boredom, to turn toward it.  Just as I do with back pain, I get conscious of where the boredom is in my body, what it feels like (perhaps aching, itching, or tightness), and so on.
The more familiar I get with my boredom, the more comfortable I become with it.  It no longer feels so weird and disturbing — instead, it's just another sensation I feel in my body from time to time.  And the more comfortable I get with being bored, the more I can choose to move forward in my work, even when boredom is arising.
I think it's amazing how much we can do just by shifting the focus of our attention.
You may recall I wrote a while back about my recurring "critic fantasy," which involved a man getting up while I was giving a talk, and yelling that my book had nothing to offer.
Well, last week, a man actually did approach me after a speaking engagement and tell me my work had nothing to offer!  Oops — perhaps I attracted this situation by "putting it out to the universe" on my blog!  (More on the law of attraction in a moment.)
I didn't find myself freaked out by the odd synchronicity, although I did feel a mild irritation at being misunderstood.  This was because the man's rant didn't seem to deal with what I actually said, but instead with his preconceived notions of what people who talk about "spiritual" stuff say.
Roughly, his complaints went like "all this stuff about 'making yourself happy' and 'creating a Rolls-Royce by thinking about it' and so on is garbage."  However, I didn't talk about either of those.  First of all, I only teach about manifesting Lamborghinis — if you want a Rolls, you need a different guru.
No "Magical Manifesting Mastery" Here
Just kidding — I don't talk about "manifesting" anything.  In fact, I later realized I was, in a (limited) way, thankful to the man for helping me clarify what my work is really about.  The work I do is about relating to the thoughts and sensations that are already there in our experience, not attracting or creating something to take their place.
One of my biggest inspirations in following this path has been the work of psychotherapist Robert Augustus Masters.  Some might say this inspiration borders on obsession — I even flew from California to Boulder, CO to take Robert's workshop.  Robert, if you're reading this, don't worry — I don't have your home address.
But here I am joking around, when I'm actually here to review Robert's latest book, Spiritual Bypassing: When Spirituality Disconnects Us from What Really Matters (not an affiliate link).
What Is Spiritual Bypassing?
Spiritual bypassing, to Masters, means "the use of spiritual practices and beliefs to avoid dealing with our painful feelings, unresolved wounds, and developmental needs."  Basically, when we learn that getting the "right" job, relationship, car, or something else isn't going to heal our pain, we turn to spiritual practices, hoping they'll quell our "bad feelings" at last.
Often, unfortunately, we don't find the relief we're looking for.  For example, some people (as I used to do) think meditation is supposed to involve feeling peaceful and perhaps even blissful.
But if they get deeply into it, they discover that it isn't like that at all — in fact, when we switch off all the noise we're usually surrounded by, and sit quietly, the pain we've been shutting out often comes through loud and clear. And that's when we start griping that meditation "doesn't work."
Spiritual Sedation
On the other hand, some of us do find tranquility in meditation and similar practices, but then we start using those practices to shut out emotions and sensations we don't want to be with – as Masters puts it, to "find a safety from the more brutal dimensions of life that we crave."  If we feel angry, for instance, and we see anger as a "negative emotion" we "shouldn't be having," perhaps we'll meditate to numb the feeling.
The trouble is that feeling angry can serve us at times in life.  If we need to protect ourselves against an attacker, or say a firm "no" to someone who's demanding a lot of our time and energy, anger can fuel us to take decisive, effective action.  Thus, sedating our anger and other "bad feelings" with spirituality (or anything else) can be harmful.
What's Spirituality Good For?
This isn't to say that spiritual practice has no benefits.  In fact, says Masters, spiritual practice can serve us by helping us get more comfortable and familiar with our pain, rather than running from it.  "Contrary to what we tend to believe," he writes, "the more intimate we are with our pain, the less we suffer."
This kind of statement was hard for me to believe before I experienced the truth of it myself.  Like many people, when I began meditating, I felt really bored, and when the boredom got intense enough I'd simply stop.  Eventually, inspired by teachers like Robert, I focused my attention on the boredom and just allowed it to arise.
As I did this, the boredom became easier and easier to be with — and, as I often describe, this had practical benefits in my life, such as helping me focus on a project I was doing for a long period of time even if I felt bored.
And on that note, look at the word count!  Looks like I'd best put the rest of my review of this important book into a second post.  Stay tuned!
Do you ever notice yourself doing "spiritual bypassing"?  What feelings do you use spiritual practice to get away from?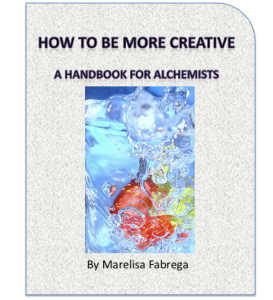 I'm pleased to share my interview with Marelisa Fabrega, the author of "How To Be More Creative: A Handbook for Alchemists."  Marelisa, whom I'm sure many of you know already, is an attorney and blogger living in Panama.  Her book is brimming with perspectives and techniques for stimulating your creative instincts.
In this interview, you'll learn:
* How meditation can inspire your creativity;
* Why improving your creativity can benefit you, no matter how routine or mundane the task you're doing might be;
* How writing down your nagging, repetitive thoughts can put them out of your mind;
* Why thinking about random words as you tackle a problem can help you come up with new ways to solve it;
* How setting a clear intention is a powerful tool for generating ideas;
* Why believing you're a creative person (or not believing it) can be a self-fulfilling prophecy;
* And more . . .
Download the Interview (MP3 file; 19 mins.; right-click and select "Save As")