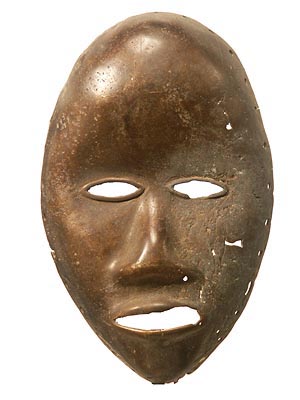 I've read a bunch of discussions on blogs recently about how to be "authentic" in marketing your goods and services—and, in some cases, whether authentic marketing is even possible—and I have some thoughts to contribute.  I'll offer a simple, but powerful, question to ask when you're working on selling your stuff to guide you toward feeling more aligned with yourself as you do it.
My sense is that, when we say we want to do "authentic marketing," we mean more than simply not lying.  Of course we don't want to claim to have experience we actually lack, or that our products do things they don't really do, but that's not enough by itself.  Ultimately, I think, what we want is to feel refreshed and uplifted when we're promoting ourselves, rather than drained and frustrated.  Ideally, we'd enjoy promoting our work as much as we enjoy the work itself.
In my experience, whether we get this feeling depends on how we see ourselves.  If we perceive ourselves as adequate and complete, exactly as we are, and our marketing efforts are driven by that belief, we're likely to feel fulfilled.  But if we think of ourselves as not good enough, and we try to compensate for or conceal our inadequacy with our self-promotion, we'll probably suffer.
Completeness Versus Compensation
What do I mean when I talk about "compensating" in our self-promotion?  I'll illustrate with three basic ways I've noticed people trying to cover up some perceived problem with themselves in the marketing context:
1.  "I'm Too Small." If we see ourselves as inferior, we may try to make up for it by exaggerating our abilities or accomplishments.  Maybe, for example, we'll portray the product we're selling as the answer to every problem a person could possibly experience.  Or, we'll use tons of bold and underlined text in our sales copy (as in SUPER FAST CASH! $$$!!!), because we're worried that otherwise no one will notice us or take us seriously.
2.  "I'm Too Big." If we see ourselves as too loud or taking up too much space, we'll likely compensate by downplaying or omitting what we have to offer.  Maybe we'll make a lot of self-deprecating jokes to make sure we don't come off as arrogant or bragging.  Or maybe we'll just avoid marketing altogether, because the very idea of "talking ourselves up" doesn't mesh with our self-image as a modest or humble person.
3.  "I'm Bad." Perhaps we see ourselves as fundamentally "evil" or dishonest, and we make up for this by trying to appear trustworthy and upstanding.  Maybe, for instance, we begin our sales copy with "I'm not going to lie to you," or talk a lot about our personal lives to make sure others know we're "more than just a faceless salesperson."  (Duff M. writes insightfully about this kind of compensation in his piece on "presenting an authentic image.")
Getting Conscious of Your Compensation
Naturally, when we're doing marketing—or anything else—from a place of feeling wrong or deficient, we tend to find it painful and frustrating.  This is why I think it's important to become aware of the ways we see ourselves as inadequate, and the places where we could stand to be more accepting and compassionate toward ourselves.
So, if you find yourself feeling drained, irritated or nauseated by the self-promotion you're doing, I invite you to ask:  "am I trying to make up for some problem with myself right now?"  In other words, are you trying to prove that you're capable, modest, or honest, or perhaps something else?  If so, why is proving that important to you?  What's going to happen to you if you don't prove it?
This can be an uncomfortable inquiry, because it may expose areas where you aren't fully okay with yourself.  But getting conscious of those places, I think, is an important first step toward accepting yourself more fully.  And when you let go of trying to compensate for or conceal some problem with yourself, marketing can become easier and more enjoyable.
(You can read Part Two of this series here.)
Many of us are in the habit of telling ourselves we're "not good enough."  Whether it's in our careers, our intimate relationships, our appearances, or some other area of our lives, we're always convinced we don't measure up to some standard of how we're supposed to be.  Because it seems we can always find something to criticize about ourselves no matter what we achieve in life, this habit can be hard to break.
I used to say this sort of thing to myself all the time, until I had a realization that transformed my understanding of what being "not good enough" really means.  One day, I was beating myself up for not having published a book yet, telling myself that my work would never be good enough and that no one identified with or understood it.  (This, by the way, is a testament to the fact that you'll never run out of ideas if you're determined to beat yourself up.)
For some reason, it occurred to me that I used to torment myself in similar ways many years ago, when I was nine years old.  When I was nine, I entered some sort of essay contest for kids and didn't win, and I didn't let myself hear the end of it.  Hey, I noticed—I'm criticizing myself for exactly the same stuff, and in exactly the same ways, that I did when I was nine.
This realization prompted me to wonder:  when and why did it all start?  When was the first time I said "I'm not good enough"?  And what prompted me to do that?  Interestingly, I couldn't recall a period of my life when I wasn't under some sort of mental attack.  Beating myself up had been a pretty consistent theme throughout my life.  Maybe I'd never been "good enough" in my own eyes.
But somehow, that didn't seem to make sense.  I'd always believed the reason I didn't feel "good enough" was that I'd done something inappropriate or immoral, or failed to do something I should have done.  And this is consistent with the way that, for better or worse, we typically judge ourselves and others.  If we judge someone else as "bad," it's normally because they did or failed to do something.  "This politician is bad because he supports policies I don't like," we say.  "My ex-boyfriend is bad because he left me."  And so forth.
If I haven't been good enough all my life, however, it can't be because I did or failed to do anything.  When I was two years old, I'd hardly "done" anything at all in the world—and yet, as far as I could remember, I didn't feel "good enough" even then.  Apparently, I was "bad" before I even had the opportunity to do anything bad.  But believing I was bad before I had a chance to act badly was kind of like calling a tree or a rock bad.  A tree doesn't "do" anything but grow and absorb nutrients, and a rock simply sits there.  The idea that an object that hasn't done anything—and can't really do anything—isn't "good enough" seems absurd.
This realization gave me a sudden sense of freedom.  I didn't "deserve" my feelings of inadequacy at all.  In beating myself up, I wasn't "serving my sentence" or atoning for some past sin.  I wasn't sure how I acquired the conviction that I wasn't "good enough"—maybe it was my genetic makeup, an early-life experience, or something else.  But the point was that, because I saw there was no good reason why I should suffer, I became able to let go of that suffering.
Further, I understood the mistake I'd been making in addressing my sense of inadequacy.  Before, when I'd have a negative thought about myself, I'd assume I could eliminate that thought by improving in a certain area of my life.  Thus, I'd pursue more achievements in the world—I'd look for ways to make more money, get invited to more social occasions, publish more articles, and so on.  However, nothing I did seemed to shake that core conviction that I wasn't good enough—my mind would simply come up with more ways my life needed fixing.  Now, I recognized that seeing that core conviction for what it was—not adjusting my circumstances in the world—was the path to peace.
If you're constantly plagued by thoughts that you're inadequate, I have a mental exercise for you.  Forget, for a moment, about the specific ways your mind is criticizing you, and the areas in which it's saying you need improvement.  Instead, ask yourself whether there's ever been a time in your life when you've been free of mental criticism.  No matter what you've accomplished, has your mind ever given you a break?
If your answer is no, consider the possibility that changing your outer circumstances won't address your mind's concerns.  For whatever reason, your mind has been convinced for most, or all, of your life that you're not good enough.  You don't "deserve" the criticisms your mind levels at you, and nothing about you needs to be changed or fixed for you to be a complete human being.  This realization may make you feel free to release your sense of inadequacy, and to access the peace and wholeness available to all of us.
I have a friend who would like to start her own business as an interior designer, and leave her current 9-to-5 job as a computer programmer.  She's convinced that she has the skills, the startup capital, the contacts and so forth to make it happen.  But she's still too scared to make the change.  Why?  Because, she says, if she leaves her current job she'll be "unemployed."
At first glance, my friend's belief seems strange.  If she makes the transition she wants, she'll be the owner and CEO of her own company, with total control over the operation of her business.  She's saved up enough money to pay her expenses while she builds up a client base.  And she'll have made a career out of doing what she loves.  Why would she think of that situation as "unemployment"?
The answer is that my friend simply can't accept the idea that it's possible to have a career that doesn't involve going into an office every weekday, remaining there between at least 9 and 5 o'clock, being gradually promoted through a large corporate hierarchy and drawing a steady salary.  All the jobs she's held during her working life have had those features.  Anything else, to her, is "unemployment," and her family and friends—having had the same type of work background—are likely to feel the same way.
When I told people in my life I was leaving the legal profession to be an author and success coach, I learned that some of them shared this attitude.  "How's unemployment treating you?" one asked.  "So when do the unemployment checks start rolling in?" another teased.  I explained to them that I was not "unemployed"—I was simply going into business for myself.  They smiled and nodded, but it was clear what they were thinking—"yeah, make all the excuses you want—you're still unemployed in my book."
"Unemployment" has nasty connotations for most of us.  We often associate it with being lazy, not being good enough to "make the cut" at work, being on the government "dole," displeasing our families and friends, being unattractive to potential mates, and so on.  Thus, for many of us, the fear that we will be perceived as "unemployed" is enough to keep us in conventional 9-to-5 jobs and prevent us from doing anything entrepreneurial, even if the latter is what we truly desire.
If you're thinking of leaving your current job and starting your own business, I don't want the fear of "unemployment" to stop you.  If you're struggling with this fear, take a look at the observations I make below and see if they do anything to change your perspective.
First off, if going into business for yourself makes you "unemployed," the "unemployed" of this world are quite a distinguished bunch.  The founders of Apple, Google and Microsoft—who, as most of us know, are now some of the wealthiest people in the world—were also "unemployed" by this definition during the startup phases of their companies.  If they'd worked conventional 9-to-5 jobs instead of striking out on their own, their ultra-successful businesses wouldn't be around today.
My larger point is that no conventional 9-to-5 jobs would even exist if no one had been willing to start a business in the first place.  If no one had taken that initiative, there would be no companies to employ the massive legions of salaried office workers in our society.  Someone's got to take the financial risks associated with entrepreneurship for our economy to operate at all.
I think that, on some level, most people who fear entrepreneurship because they view it as equivalent to "unemployment" are aware of this.  It's not that they think going into business for oneself is inherently bad or impossible—they simply think it would be "arrogant" or "unrealistic" to believe they could do it successfully.  They predict that, if they started a business, they would end up in the circumstances we typically associate with unemployment—i.e., broke, "on the dole," having nothing in particular to do, and so on.  "Bill Gates may have done it," they think, "but I'm not Bill Gates."
In other words, people who suggest that they'd be "unemployed" if they started a business are really just expressing feelings of inadequacy about themselves.  And if someone says the same about your entrepreneurial aspirations, they're probably motivated—at least in part—by envy or resentment.  Because they don't think they have what it takes to strike out on their own, they feel that you're acting like you're superior to them by doing what they couldn't bring themselves to do.
But what if you recognize this feeling of inadequacy in yourself, and it's preventing you from pursuing your business idea?  I recommend that you start by contemplating what would happen if you started your own business venture and it failed.  Suppose your company consistently failed to generate enough revenue to cover its costs.  What would be true about you, and what would happen in your life, if that worst-case scenario came to pass?
I've asked this question in the past to clients who were considering career transitions.  Interestingly, their fears surrounding failure don't usually concern their survival or their financial circumstances.  They're not afraid that they'll starve to death, be unable to support their children, lose their homes, and so forth.  Whatever happens from a financial perspective, they'll probably find ways to get by.  Instead, they're afraid of others labeling them in hurtful ways.  They envision their loved ones, friends, acquaintances and others saying or thinking things like "I always knew he'd never amount to anything," "see, she's nothing but a bum," "he's like a daydreaming child with no common sense," and so on.
However, people usually don't examine why they are trying so hard—even to the point of stifling their career aspirations—to avoid the possibility of others' disapproval.  When I ask them what would happen if their business failed and someone else attacked or ridiculed them for it, they typically give one of two answers.  Sometimes, they can't quite pinpoint what bad things would happen if someone disapproved of them—they just have the gut feeling that they need everybody to like them.  At other times, they find themselves coming up with an answer that is irrational or ridiculous on its face—for instance, that they'd die if someone else disliked them.
Either way, when people seriously consider this question, they usually start to doubt that their fears of "unemployment" are a sufficient reason to avoid going off on their own.  Understanding what they're truly afraid of gives them a feeling of freedom to explore career possibilities they hadn't thought were open to them before.
I invite you to try this exercise.  Ask yourself what you're really afraid will happen if you start a business venture and it fails.  I think you'll find that your fears surrounding "unemployment" aren't as reasonable or convincing as you'd thought.
(This article appeared in the Carnival of Success and Abundance Mindset, located at http://www.thehomebasedbusinesscenter.com/blog/success-and-abundance-mindset-042408.htm.)