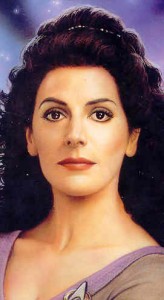 There's been a lot of hubbub about a recent study on the relationship between men's facial expressions and their attractiveness to women.  According to the study, when presented with photos of smiling and brooding men, the female test subjects said they were more attracted to the unhappy-looking men than to the happy-looking ones.
Not surprisingly, lots of people writing about the study concluded that, if they want to attract women, men should try to look tough or even ashamed, and avoid smiling.
Am I a Betazoid?
When I read articles that say I should put on some facial expression, or display some kind of body language, to get people to like me, I tend to feel a little alien.  I start to wonder:  am I the only one who finds it painfully obvious when a person is trying to look a certain way?
In my experience, when someone smiles, I can instantly tell if they're really enjoying themselves, or just trying to look happy for my benefit.   By the same token, it's immediately clear to me when someone's trying to look puffed up and tough to hide their fear.
Though I'm a fairly empathic guy, I suspect I'm not the only person who can tell when someone's hiding what they truly feel — what with me being human just like everybody else, and all.  But if that's true, why is there so much advice out there about "winning body language"?  Don't the people who give that kind of advice see how unhelpful it is?
No Empathy Allowed
What I've come to believe is that, in our culture, there's a sort of unspoken agreement that we won't admit how empathic we are.  I'll pretend I don't see that you're unhappy, so long as you act like you don't know I'm angry.  You'll smile back at me, although you know my smile is fake, and I'll do the same for you.
I think this unspoken agreement is rooted in our fear and distrust of each other.  We're afraid that, if someone saw how we were really feeling, that might put us in danger.
After all, if you saw I was feeling sad or distressed, maybe you'd make fun of me, or attack me in my moment of weakness!  So, it seems easier for us all to pretend we can't sense each other's emotions — that way, nobody needs to feel unsafe.
The trouble with this unwritten rule is that it leaves a lot of us starving for real connection.  If I have to pretend I don't know how you're feeling, I can't offer you compassion and a chance to talk about what's going on, unless you come out and ask me to.  And to many people, asking for another person's compassion sounds about as inviting as sticking their head in a lion's mouth.
Are You Really "Fine, Just Fine"?
So, because I want to feel genuinely connected to people around me, I've taken to letting people know when something seems "off" to me — when I get the sense that their words and expression don't match how they're actually feeling.
I try not to put this in an accusing way, as if they're lying or doing something wrong.  I just ask whether something's going on that they'd like to talk about — "are you really 'doing fine,' or is something up?"  This isn't always easy, and people don't always want what I'm offering.  But much of the time, it creates a far deeper and more satisfying conversation.
It's become common in business literature to say that entrepreneurs who care about others tend to be more successful.  Thus, say business authors, it will profit you to act like a caring person.  Say "thank you," smile, look into people's left eye, let them do most of the talking, and so on.
I think it's true that people who are genuinely concerned for others' wellbeing make better entrepreneurs.  But that doesn't mean we can develop real concern for others simply by imitating caring people — by aping their body language and the words they use.
We can easily see this, I think, when we recall moments when someone flashed a fake smile at us.  The corners of their mouth turned up, but their eyes were hard, and fearful or angry.  All this did was create unease for us — it certainly didn't make us want to do business with them.
I'll bet you can also remember a time when you went into a social event with preconceived notions about how you "should" act — perhaps you thought you needed to look charming, aloof, successful, or something else.  Was that enjoyable or miserable?  I think the answer is clear — making all that effort to look a certain way is no fun at all.
Ask Yourself Why You Don't Care
If caring for others isn't about imitating kind people, how do we do it?  In my experience, the first step is to take a close look at what's going on in moments when we don't find ourselves caring about people — when our hearts are closed.
My sense is that, when we aren't feeling concerned for others' wellbeing, it's because we're occupied with protecting ourselves.  Consciously or not, we think there's a threat to our survival.  Naturally, we're focused on avoiding that threat, and others become just a means to that end.  We start ignoring people who don't look like they can give us money or prestige, and manipulating those who do.
So, I think it's useful to ask ourselves, whenever our hearts are closed, "what's the threat I'm trying to deal with right now?  What danger am I protecting myself from?"  The answer you arrive at, if you sincerely ask this question, might be something like this:
"I need to look tough to make sure people don't hurt me."
"I must look successful, or no one will work with me."
"I must be seen talking to the right people, or my social status will be destroyed."
"I need to get clients at this event or my business is shot."
Facing The Danger
It makes perfect sense that, when we're thinking this way, caring about others is impossible.  But I think you'll notice that the question I described helps put the perceived threat into perspective.  The closer you look at the supposed danger, the less serious it starts to seem.
Is it really true, for instance, that your business will collapse if you don't get clients at this event?  And even if your business did collapse, what would that really mean for you?  Would you disintegrate and never be seen again?  Or is it more likely that you'd get up and try something else?  Notice how just probing the fear a bit with questions like these can have it start melting away.
My sense is that human beings are naturally compassionate toward one another.  Tapping into that compassion, I think, is more a matter of letting go of the ways we protect ourselves against getting hurt than memorizing the right "tips and tricks."
(You can read Part One of this series here.)
Many people's biggest fear around interacting with others is that they're going to "run out of things to say."  An "awkward pause," to many of us, seems like the most painful and embarrassing thing that can possibly happen in a conversation.  We fear silence so deeply that we often find ourselves talking solely to fill space.  It seems we'd rather make forced, meaningless "small talk" about the weather, politics, sports and so on than run the risk of an "uncomfortable silence."
Our fear of silence has produced a vast body of literature on how to keep conversations going.  Writers on social interaction advise us to memorize lines we can use to "break the ice" with strangers, read the newspaper and make lists of interesting current events to bring up, prepare jokes we can crack to be entertaining, and so on—all with the goal of preventing the dreaded "awkward pause."  The ideal conversationalist, we're taught, always has a ready question, anecdote or witticism to keep people talking.
What is it about silence that scares us so much?  My sense is that it has to do with our fear of being seen for who we truly are.  Words have many functions, but one of the things we commonly use them for is ensuring that others form positive impressions of us and distracting them from aspects of ourselves we aren't proud of.  With language, we can brag about our accomplishments, sound intelligent, tell "white lies" to soothe people's egos, and so on.  In quiet moments, by contrast, we can't use words to shape the way we're seen.
Thus, in moments of silence, we have far less control over the image we project to others, and we feel naked and exposed.  Of course, we can always move our bodies in rehearsed ways to try to make the "right impression."  But somehow, body language doesn't seem as precise a tool for making sure others perceive us in certain ways as verbal communication.  It feels easier to, say, make a joke or tell a lie than to effectively mimic the movements of a confident or attractive person.
How Silence Brings Depth To Our Interactions
While silence makes it harder for us to control the impression we create, it also opens the way to deeper and more fulfilling relating with people.  When we release our need to fill the space in conversations with meaningless chatter, or manipulate and distract others with our words, we gain access to a dimension of human relationships most of us rarely, if ever, experience.
I discovered this myself during a transformational workshop I took a while back.  As part of an exercise, I was having a conversation with one of the course leaders about the places where I had room to grow as a person.  After we'd talked for a while, she expressed some frustration with me because, she said, I "had an answer for everything."  No matter what she said, it seemed like I always had a quick reply, explanation or joke at the ready, and this had her feel disconnected from me.
At first, when she said this, I felt confused.  Wasn't I supposed to have an "answer for everything"?  Wasn't the ability to quickly respond to what the other person says, and avoid "awkward pauses," the mark of a good conversationalist?  I'd always prided myself on my ability to charm and fascinate people through talking.  How would I communicate effectively without relying on my "gift of the gab"?
I admitted to her I wasn't sure how we could improve the communication between us.  She suggested that we try silently making eye contact.  Because, at the time, I bought into the conventional wisdom that it's critical to avoid "uncomfortable silences" at all costs, I initially felt anxious about doing this.  But when I finally agreed to try it, I was pleasantly surprised at the experience.
As I anticipated, when we stared at each other in silence, I felt vulnerable and a little scared.  I knew that, if she formed a negative opinion of me, there was nothing I could do to dispel it or explain it away.  I couldn't make offhand references to my credentials or people I knew, joke around to make myself look fun, drop names of obscure authors to sound intelligent, or use any of the other verbal tricks I'd employed in the past to impress people.  She was going to see me just as I was, and I was powerless to stop it.
On the other hand, I started to realize, there was something deeply fulfilling about being seen for who and what I was, without any hiding, embellishment or distraction.  On some level, this is what I'd been wanting for a long time—to be appreciated for my true self, rather than for the clever ways I disguised myself through talking.  As she gazed into me, I felt a peaceful, nourishing warmth spreading through my chest and stomach.
What's more, I had the privilege of seeing her for who she truly was, without having to peer through a screen of words.  I was moved by how real and unpretentious she and our interaction seemed, and by how much we learned about each other without saying anything.  As Buddhist teacher Peter Fenner describes this kind of experience in Radiant Mind: Awakening Unconditioned Awareness, "we find that we don't need to respond, and yet in the absence of a verbal reply, everything is communicated and taken care of."
Silence Awakens Us To Our Shared Humanity
Another key realization I had in doing this exercise was that it's only in quiet moments with others that we fully recognize how much we have in common with them.  Each of us plays a series of roles in society—as parents, employees, customers, and so on—and language is the main tool we use to inform others of the social roles we play and learn about theirs.
When we say "I'll have a green tea" to the barista at the coffee shop, for instance, we're playing the role of customer and telling the barista to play the role of server.  We ask others "what do you do" to learn more about the social role they play in the area of their career, and their answer determines much about how we relate to them.  Based on this information, perhaps we'll ignore them, respect them, express more interest in them, or something else.
The more we learn about others' social roles, and the more focused we become on playing our own, the more separation we feel from people.  For example, if I meet you and I learn that you're in a career field that differs from my own—perhaps, say, you're a doctor and I'm a mechanic—I'll likely start feeling separated and disconnected from you.  I'll start making all sorts of assumptions about your lifestyle, the people you associate with, and so on, and how radically your life must differ from mine.
Similarly, if I say "hello" to you in English and you respond in a different language, I may begin thinking of you as a "foreigner," rather than as simply another person.  Language thus makes us conscious of differences between us we wouldn't otherwise have perceived.  And the more we get fixated on the differences between our social roles, the less conscious we become of our shared humanity.
By contrast, in moments of silence, our attention shifts from our social roles to the fact that—despite our different nationalities, ethnicities, occupations and so on—we're all nothing more and nothing less than human beings.  This can be uncomfortable, as many of us rely on our social roles to help us feel secure and often superior to others.  But if we breathe through our discomfort and allow it to pass away, we discover a peace we don't experience often.
This is the peace of knowing that, despite our differences, we're all in a sense "playing on the same team," or embarked on the same human journey.  In spiritual terms, it's the knowledge that we share a common essence, or are made up of the same energy that comprises all life in the universe.  As Carolyn Humphreys writes in From Ash To Fire, "often the loving acceptance and understanding felt in silent communication speaks louder than words.  As in prayer, the silence allows for an intimate listening and a speech that is from heart to heart."
Exploring Silence In Your Relationships
If you want to explore more deeply the rich experience that silent relating can offer, or if these ideas sound absurd or "far out" to you, I encourage you to try this exercise.  Ask a friend or intimate partner if they'd be willing to spend a minute or two quietly making eye contact with you.  As you gaze into the other person's eyes, keep breathing slowly and deeply, and allow whatever tension may arise in your body to course through you and subside.
Notice, as you look at the other person in silence, how much you can perceive about how they're feeling and what they're thinking.  In other words, notice how deeply you can know and understand them without saying or hearing a word.  You may also recognize that what you learn about someone through silently interacting can feel far deeper and more meaningful than anything they could tell you about themselves.  You may see the wisdom of Ralph Waldo Emerson's words:  "what you are shouts so loudly in my ears I cannot hear what you say."
I won't guarantee that doing this will be comfortable.  You may find silently relating with someone, particularly if you're doing it for the first time, a tense or frightening experience.  But if you pay close attention, I think you'll also see that silent interaction affords you a great opportunity to learn more about yourself.  Notice the thoughts and feelings that emerge when you're being with someone in silence, and you'll become more aware of the areas where you have room to grow.
For example, if you feel nervous silently making eye contact with someone, turn your attention to what you're afraid of.  What are you afraid they're going to think or feel about you as you're quietly connecting?  What "awful truth" will they learn about you that you usually keep hidden behind a screen of words?  Contemplating what scares you about silently interacting with someone can tell you a lot about the beliefs that may be limiting your fulfillment and achievement in life, and help you take the first step toward changing them.
The conventional wisdom has it that, in relating with people, silence is always "awkward" or "uncomfortable."  However, I don't think it needs to be.  When we become willing to drop our preconceived notions about silence and let ourselves experience it in relating with others, we gain access to a deeper level of communication and intimacy that we don't usually get to experience.
As I enjoy writing and public speaking, and generally put a lot of importance on verbal expression, I haven't always given my nonverbal communication the attention it deserves. Traditionally, I've had mixed feelings about becoming more aware of the messages my body conveys to others.  On one hand, I understand how central body language is to creating rapport between people.  On the other, I don't want to get overly self-conscious about my nonverbal communication, and to go through my everyday interactions filled with anxiety about the impression my body is creating.
This was before I learned that the best way to build rapport with someone else—to create a sense of connection with them—is simply to give them your full attention.  People, I've found, can sense it when your attention is completely focused on them, and when they do, they feel deeply secure, relaxed and understood.
This isn't as easy as it sounds.  Many of us are accustomed to letting our minds wander when we talk to others, and only half-listening to our conversation partners.  Some of us plan or worry about our daily activities while we're conversing; others mentally rehearse what they're going to say when the other person finishes; and still others are constantly looking around for something more stimulating in the surrounding environment.  To be fully attentive, we have to quiet these mental distractions.
Nor will pretending to listen help.  I'm talking about actually giving someone your full attention—not moving your body or speaking in an effort to convince them they have it.  For instance, it's possible to make unbroken eye contact, lean your body forward so as to pick up every word, and say "yeah, I'm listening," but for your awareness to be lost in your own thoughts.  If this is happening, you won't achieve the kind of rapport you want, and the other person will get a nagging sense that something is out of place.
I first recognized this during a conversation with a friend a while back.  She is an inveterate worrier, and she tends to bring up basically the same anxieties with me every time we talk.  After a while, I have to admit, I got tired of running over the same list of problems, and I started using the moments when she'd bring up her worries as opportunities to think about other tasks I needed to deal with.  My eyes would be focused on hers, and I'd nod and acknowledge what she said, but my attention would be elsewhere.
One day, I decided to try a different approach.  I did my best to empty my mind of thoughts of the past and possible future, and to place my full attention on her as she spun her tale of woe.  I fixed my awareness not only on the words she was saying, but on the tone of her voice and the place it seemed to be coming from in her body.
After I'd spent a few minutes in this state of simply perceiving her, without any mind activity, I started noticing subtle changes in her behavior.  Her eyes began to widen and look more alert, her face took on a healthier color, and she began to grin and giggle even as she listed her anxieties.  Eventually, she broke into a full smile, and the conversation completely shifted gears from her unhappiness to how much she enjoyed seeing me again.  I did nothing to create this change in her, apart from listening with an unclouded, undistracted mind.
Another interesting observation I made was that giving my friend my full attention improved my own emotional state.  When I held her in my thought-free awareness, a warm feeling spread through my chest, and I started to more richly experience the joy of being with her as well.  I felt completely willing—and wanting—to listen to anything she might say, even if it was her standard list of woes all over again.
In that moment, it struck me that "paying attention" is a somewhat misleading expression.  The idea that I'm "paying" attention to someone implies that I'm giving them something without receiving anything in return—or, perhaps, that I'm expecting them to "repay" me in the future.  In fact, however, lending my friend my undivided attention helped both of us enjoy the conversation more.
Since then, I've made a conscious attempt to bring my full attention to every interaction I have in my daily life.  Whether I'm talking to a client, a loved one, or the guy who takes my order at the coffee shop, I've made a habit of putting aside all my outside concerns and fully holding that person in my awareness.  I've found that, even though the words used in my regular interactions haven't changed much—I still ask the coffee shop guy for a drink and thank him when he gets it—my conversations have a new quality of joy and aliveness about them.
Scholars in diverse fields have long understood the connection between fully listening to a person and developing rapport with them.  Psychologist Karl Menninger, for instance, wrote that "[l]istening is a magnetic and strange thing, a creative force.  The friends who listen to us are the ones we move toward.  When we are listened to, it creates us, and makes us unfold and expand."
Similarly, physician Gary Allan Ratson observes that devoting your full attention to someone is more likely to create a sense of connection than any sort of "attention-paying" body language.  As he writes, "[i]t's more than our welcoming smile, warm eyes, gentle movements, and sincere tone of voice that warms another's heart.  These are manifestations of the primary loving awareness that puts people at ease, makes them feel at home, and assures them that someone cares."
If you're hoping for more meaningful and fulfilling interactions with others, the most important practice I can recommend is to bring your full awareness to your conversations.  This works best when you pay attention to more than just the other person's words—when you can hold their movements, voice tone, and other aspects of their expression in your awareness, they'll feel most cared for and respected, and rapport tends to follow naturally.  Not only is it pleasurable for others to receive your full attention—you'll also feel more joy in your interactions when you're completely focused on them.
(This article appeared in the Carnival of Improving Life, located at http://posts.blogcarnival.com/page.php?p=142750.)
Recently, I read an interesting article about how people should shake hands in business interactions.  According to the article, when you're shaking hands with someone—unless they're your superior at work—you should turn your palm down and position your hand above theirs.  This is supposed to suggest you are the dominant person in the interaction, and subtly influence the other person to do what you want.  This, we're told, is the way powerful executives shake hands with people they meet—implying that, if you want the money and power they have, you should adopt their handshake.
To me, there's an irony in literature on how to shake hands to make the "right impression," and other teachings about how to impress people with assertive, confident or attractive body language.  The irony is that these authors learn about the body language they teach by studying the behavior of people who naturally move their bodies that way.
For instance, the executives referenced in the article I read don't shake hands the way they do because they read an article or took a course on handshakes.  They came to shake hands that way without thinking or being self-conscious about it.  The way they shake hands, and other aspects of their body language, are natural expressions of who they are.  To them, their handshake is completely comfortable, and the possibility that they're shaking hands "wrongly" doesn't even occur to them.
By contrast, if you told someone who'd never before used the "dominant" or "palm-down" handshake to start using it, I'll bet they would be completely uncomfortable.  Every time they met someone, they'd have to focus their attention on their handshake to make sure they got it right.  Being this anxious about the way you're coming across isn't very pleasant.  And I don't know about you, but walking around feeling like I had to imitate someone else's movements to be socially acceptable wouldn't do wonders for my self-esteem.
Communication consultant John Mattock puts this point nicely in Cross-Cultural Communication: The Essential Guide To International Business, in the context of learning the body language of people from foreign cultures:
Television programs, handbooks and training courses which touch on "personal communication" often dwell on body language . . . . People are fascinated, because the messages are directed at a human weak spot: insecurity about how others perceive us. But the advice and the warnings can have a damaging effect. The "communicator" enters his next transaction nervous of making a mistake, and the proceedings become stiff and unnatural.
Some people might read this and say "but I'm self-conscious about how I move my body all the time anyway.  Since that's how I am, I might as well learn body language that impresses people."  Others might say "but if you work on your handshake for a long time, you won't be uncomfortable doing it anymore.  It's like developing any other skill."  A few years ago, I would have voiced the same objections.
Eventually, however, my perspective on this issue shifted.  If researchers on body language learn the "right" ways to move one's body by observing people who move that way without thinking, maybe the best way to make a good impression on others is to get rid of your self-consciousness.  Perhaps the very reason powerful executives make a good impression, and are successful in business, is their lack of anxiety and inhibition.  In other words, the best way to present yourself effectively is to stop agonizing over how you're presenting yourself.  This seems like a lot less work than meticulously studying other people's body language and trying to imitate it.
How do you become less self-conscious?  I could go on for many pages about this question.  However, I'll start by saying that, in my experience, one of the most effective methods is to carefully explore the reasons your self-consciousness exists.  What impression do you need your body language to convey to people?  When did you decide that the way you normally move your body isn't good enough?  What are you afraid would happen if you didn't adopt the "right" body language?
Understanding why you have an insecurity is often the key to freeing yourself from it.  Insecurities about the way we move our bodies, and more generally about how we appear to people, arise from a felt need to defend ourselves against others.  Perhaps we're afraid others will ridicule, ignore, attack, or harm us in some other way.  We have to make our bodies look "right," we believe, to prevent these things from happening.
As psychologist Sabine Wilhelm describes in Feeling Good About The Way You Look: A Program For Overcoming Body Image Problems, these fears tend to develop in our childhoods, when we're at our most vulnerable.  "Parents who have extremely high expectations, or are very critical in general, might also produce feelings of insecurity in a child," she writes.  "[T]hus, a minor appearance flaw or an occasional comment about some appearance issue might be blown out of proportion."
When you bring your full attention to your fears about how you're coming across, you're likely to discover that many of those fears are obsolete.  They arose out of conditions of your childhood environment that no longer exist today.  The people you were afraid would criticize, exclude or attack you can't hurt you anymore.  When you have this realization, you feel freer to drop your insecurities and move through the world in a way that feels right to you.
(This article appeared in the Rich Life Carnival, located at http://yourfinishrichplan.com/blog/2008/05/16/rich-life-carnival-2/.)