October 24th, 2012
The Annex Studios in San Mateo, CA, with our super-engineer Jermaine
Yesterday, I had the privilege of recording the Steve's Quest Episode 2 vocal and dialogue tracks with thespians extraordinaire Robin Yukiko, Gina Harris and Justin Vanegas.
We recorded two songs — "Give Her the Tour," a duet between Steve and Ash (Steve's friend and romantic advisor) about how Steve should pursue his love interest Sabrina, and "He's Got Potential," a duet between Sabrina and her friend Rona where they debate whether Steve, well, has potential.
We also did about five minutes of dialogue, which is a lot more than what I have in Episode 1 — I felt much more confident in my script-writing abilities after watching about 75 episodes of various Joss Whedon TV shows like Dollhouse and, of course, Buffy the Vampire Slayer, and I think all my intensive research paid off.
I'll share some more candid studio shots below.  Doesn't the stage presence and adorability of the cast just radiate from these pictures?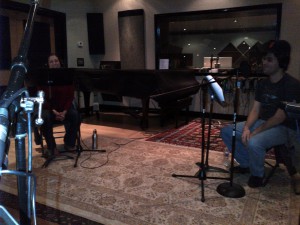 Gina and Justin, recording dialogue.
Robin, also recording dialogue and chuckling about something — obviously, the uproariousness of the dialogue.
Gina, momentarily distracted by something more interesting than the dialogue.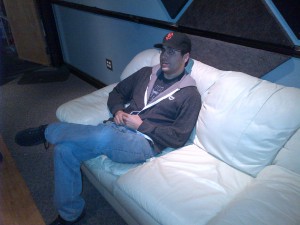 Justin, definitely not chuckling because he is being blinded by my camera's eye-splitting flash.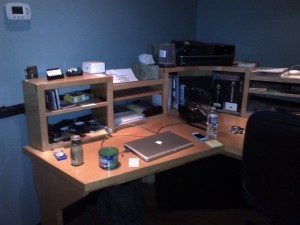 If this desk at the studio could chuckle at the uproarious dialogue, you know it would.
And, last but not least . . .
Your humble writer/producer, already gearing up for Halloween.
Stay tuned for more visual stimulation!