A few weeks ago, I composed the music for a promotional video (embedded below) for a foundation called Breakthrough Silicon Valley.  It was definitely exciting, because I've wanted to do this type of work for a long time.  Ideally, this sort of project will help me find other opportunities to do music for film and television.
The most challenging part of this project was that the tempo (speed) changes that happen in the music needed to be precisely synced to particular moments in the video.  You may notice this at the end, for example, when the final piano note plays at the same time that the Breakthrough logo appears.  But I do think the detail work we put into the video was worth it.
I hope you enjoy it — I've definitely got more musical stuff in the pipeline.
Well, it's taken longer than we expected (as I guess it always does), but Episode 2 of Steve's Quest is almost ready to go live!  To give you a taste of the graphical goodness to expect, I'll post below some screenshots from the episode — which, by the way, features even more over-the-top animation and music than our first offering.
Also, for those of you who didn't see the post on Facebook, I'm pleased to announce that Episode 1 of Steve's Quest has been selected to be screened at Gen Con, which is the U.S.'s largest gaming convention, in August.  I actually went there last year, but I didn't realize that it had its own film festival until I started doing festival submissions.
This year, my friends and I get to go for free, which is quite a thrill for me, since I've known, and been rabidly gaming with, the same friends for more than 25 years.  I may also be speaking on a panel or two regarding indie filmmaking, and I'll try to post a video of the panels if I end up participating in them.
Sabrina (Steve's love interest), her coworker Rona, and the sinister presence known only as The Boss.
A closeup of Sabrina.  The artists convinced me that she should not have a nose, because it gives her a more streamlined look.
Steve smiling as he asks Rona to come to his party, but a bundle of nerves on the inside.
Just in case you doubted that The Boss was a sinister presence.
Hope you enjoyed these!
Two weeks ago, I had a blast shooting a music video for "Howl at the Moon," which is the first track from the album I recently released.  My favorite part was that my brother Tim came up from LA to appear in the video (he also played guitar on the song), and I got to shoot the breeze with him and the rest of the band during the inevitable long breaks between takes.
The video is being edited right now, and I'm anxious to share it with you.  For now, I'll show you some screen captures from the footage we got.  The intensity you see on my face, for better or worse, isn't an act — I get pretty maniacal when I'm in performance mode.
My fingers can get fairly maniacal too when I'm playing piano.
The full band (at least, for the purposes of the video) — Tim is on the right.  Justin Vanegas, who also appears in Steve's Quest, is on bass.
Anjelica Zanipatin-Solis, who plays a widow in the dramatic scenes that are intercut with the shots of the band (yes, there are actors in the video too — I went all Cecil B. DeMille on this one!)
This shot showcases the dry ice that filled the room while we were on the sound stage — it gave the lighting a murky, mysterious quality.
Aleksandra, the makeup artist from the shoot, in a cameo role as the widow's document-carrying officemate.
That isn't a black screen (or a green screen) in the background — it was just really dark.
I hope these were fun — looking forward to showing you the video!
I'm pleased to announce that Episode 1 of Steve's Quest: The Musical just won an "Award of Excellence" from the Best Shorts competition.  The competition has included some pretty amazing work, including a short film ("Mr. Hublot") that won an Academy Award for Best Animated Short Film.  Obviously this means we will also win an Oscar and it's just a matter of time.
Also, Episode 1 has just been selected by two film festivals, the Blue Plum Animation Festival in Johnson City, Tennessee and the Studio City Film Festival in Los Angeles.  I live in California, so I'll definitely be going to Studio City, and I'll visit the Blue Plum festival as well if it means I'll finally get the opportunity to meet my animators (who live in Georgia) in person.
It's hard to believe that, about a year ago, I was doubting whether we would ever find a way to finish Episode 1, and I was already making preparations to follow my Plan B, which was to do a show about magical puppets who live in a sewer (but I will eventually make that one too — you mark my words)!
Looking forward to sharing Episode 2 with you, which will be live soon!
I was honored to be interviewed by Kimberly Lew over at Emerging Musical Theatre, which is a blog that covers some amazing, contemporary composers and shows.  We talked about the origins of Steve's Quest, the Comic-Con panel the cast and crew will almost certainly, eventually, do, the reasons I decided to play the title role, and the proverbial "much, much more!"  Enjoy.
One thing you may not know about Steve's Quest: The Musical, the animated musical webseries I wrote and directed (which is now live!), is that the cast and crew of the show are "bicoastal," meaning they are located on both the East and West Coasts of the U.S.  The upside of this arrangement was that I got to work with exactly the people I wanted, but of course working with people mainly over e-mail and file sharing came with a unique set of challenges.
In this piece over at The Snobby Robot, I talk about how we've worked through the challenges that came with being on opposite sides of the country, and what I've learned from the process.  Enjoy!
The wait is finally over — Episode 1 of Steve's Quest, the animated musical webseries I wrote and directed, has hit the interwebs!  Here it is, for your viewing pleasure: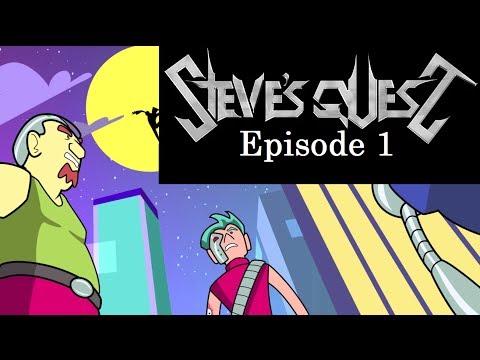 As you'll see, it's an eclectic and spicy blend of hard rock, science fiction, computer games and software engineering (yeah, basically a mixture of things I like).
If you enjoy it, and I'm pretty confident you will, please take a moment to hit the "Like" button on the YouTube video — that will help the show, and the hyper-talented team, get the attention they deserve.  If you would like to share it with people in other ways as well, please do!
Here's a fun fact:  as far as I can tell, this is the first animated musical web series ever.  Yeah, I mean the first one in the world, and potentially in the universe. It's daunting but exciting to be creating a new art form, or at least a bizarre hybrid of old art forms.
This show is the culmination of more than two years of work on the writing, storyboarding, animation, casting, and vocal and audio recording — not just by me, but by the nearly twenty people who have contributed their talents to the project.  Not surprisingly, it's hard to express how pleased I am to see it come to life.
Looking forward to hearing what you think. Episode 2 is already well on its way!
We finally have a definite release date for Steve's Quest, the animated musical web series I wrote and directed!  Episode 1 will go live on March 14.  The weird idea for a musical I had on one fateful plane ride in September 2011 is, at long last, coming to fruition.
I know I've given some release date estimates in the past that proved to be, shall we say,  overly ambitious, but this time I have the full episode in hand (or whatever the digital equivalent of having something in hand is), and there are no remaining obstacles in Steve's Quest's path toward domination of the interwebs.
Enjoy the trailer — I'm looking forward to hearing your reactions!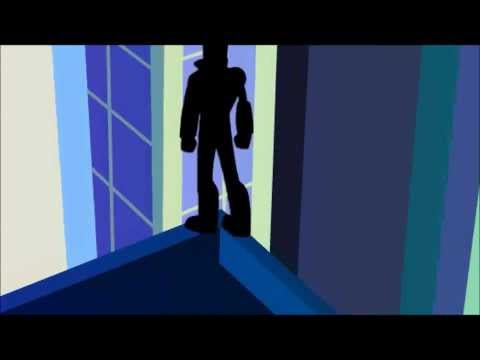 Well, it happened much sooner than I actually thought it would — my new album, "Slow Burn," is now available for download on iTunes here, and at Amazon here!  It's the culmination of several months of writing, recording, mixing and MIDI programming.
It's funny how things build momentum — like I mentioned in my last post, six or seven months ago, I probably wouldn't have taken seriously the idea of playing the "lead singer" role in performing pop or rock material, which (having grown up in the '80s) I associated with a lot of Spandex, preening and posturing that didn't really suit my personality.
But I kept hearing from people (and by "people" I don't just mean "my Mom," although she was one of them) how much they enjoyed hearing me sing the songs, and I decided I wanted to try performing my own material at least once, just so I wouldn't end up wondering what it would have sounded like.
As for the style, I'd call it a quirky hybrid of rock, country, musical theater and mid-to-late '80s video game console music.  Whatever else might be said about it, it's definitely unique.
If you get the album, I hope you enjoy the tunes, and I look forward to hearing any feedback you might have (constructive or otherwise).
P.S. — you can listen to one of the complete songs, "At War," here.
I'm excited to share a song, "At War," from my upcoming album "Slow Burn."  It's a four-song album that I guess you could say I put together "by popular demand."
Basically, I wrote a bunch of songs that I planned to have other people perform, and I wanted to license the rights to use the songs to movies and TV shows.  I recorded some rough, homemade demos of myself singing the songs, purely as a guide for the vocalists I thought were going to perform them.  But I kept getting the same feedback from people (even one guy I paid to perform one of the tunes):  "why don't you sing these yourself?"
Although it's true that I do some of the vocals in Steve's Quest, for some reason it never occurred to me that I could play the "lead singer" role in performing pop or rock material.  But once people raised the idea with me, I realized that, if I never tried it, I'd probably end up regretting it, and wondering what it would have sounded like and what I might have been able to accomplish.
So, without further ado, here's one of the songs from the album — looking forward to sharing the rest with you soon!