I'm excited to share a new demo reel I'm planning to use to raise the profile of my work as a composer for films and commercials.  I thought I might as well get whatever feedback you generous folks may have.  Let me know what you think.  Thanks!
We shot this video while our cast was in the recording studio laying down vocals for "Something 'Bout The Blood," the opening number from The Breakout: A Rock Opera.  Warning — it's highly potent and addictive — I've been watching it, like, every hour (even though I wrote the song and have been listening to various versions of it for, like, two years)!
You've seen the mostly candid backstage photos from the live performance of The Breakout — now, feast your eyes upon some photos of the actual show!
Just to make sure you're up to speed, a 20-minute excerpt of The Breakout, a musical I wrote, was performed at the Play Cafe Musical Showcase in San Francisco.  Due to last-minute casting issues, I ended up being part of the cast as well.  A bit of suspension of disbelief was probably needed for the audience to imagine me as a surly teenager, but generally I was very happy with how it went.
And here are some superb-quality snaps taken from the sold-out audience:
Our female and male leads — Juliana Lustenader as "Scara," and Jesse Cortez as "Albert."  In the background are Scara's hopefully surly-looking friends, "Rat" (Emily Marsh) and "Jake" (Me).
The sold-out house at the Stage Werx theater in San Francisco.
Totally looks like "Seasons of Love" from Rent, doesn't it?  At least, you know, the way that we're standing.
The superb Amy Meyers (left) as "Ms. Fancher," Scara's high school teacher.
Looking forward to sharing the full-length version of the show with you soon!
I'm enthused to announce that Steve's Quest Episode 3 is in the proverbial can!  I know it took a long time (the visual side of a project like this can be lengthy and costly), but I think you'll find it's our best work yet.
Feast your eyes and ears — and, if you enjoy it, please "Like" it on YouTube, because that helps us get the word out: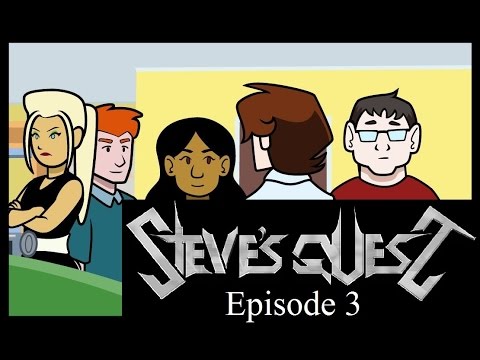 Oh, in other news — I didn't want to say too much about this before Episode 3 came out, because I was mildly embarrassed by the fact that we had so few episodes posted, but Steve's Quest won the prestigious IAWTV Award for Best Animated Series!  And we've got the semi-exclusive photos to prove it!
This is me accepting the award at the IAWTV Award ceremony in Vegas — I even got to give a brief speech.  Unfortunately I forgot that I might need to prepare one, so I shouted something about how we should all do more Internet musical theatre and sat down.  It was still well-received.
The view from the window of my room at the Treasure Island hotel on the Vegas strip.  It's a beautiful area, although I find slot machines alien and intimidating.
The red carpet at the IAWTV Awards.  As you can see, this was not just a square of red carpet made to look like a longer one by various forms of camera trickery, like some of the ones I've been on before — this was the real McCoy.
This photo was taken by a Brazilian gentleman I met who has a hilarious (Portuguese-language but subtitled) series called Oposto do Sexo.
Enjoy the episode — more icy-hot content is in the pipeline!
Well, we sold each and every one of the 99 seats of the Stage Werx theatre in San Francisco.  And in fact, we could have done another sold-out show, according to the producers.
Due to last-minute casting issues, I ended up performing in the show — with only a week left, I was really the only remaining choice because I obviously know the songs well enough to fill in.
Generally, I was very happy with how it went — those days in early April (seemingly a lifetime ago) where I got up at 4:30 a.m. repeatedly to arrange my songs for piano and vocals paid some dividends.  My voice unfortunately was kind of scratchy during the show, but thankfully I was a supporting character who mostly sings while other people are also singing!
And here are some semi-exclusive pre-show pics that indubitably prove how fun it all was.
Outrageously wonderful cast members Emily Marsh, Amy Meyers and Jesse Cortez.
Our fantabulous female lead, the powerfully-voiced pixie Juliana Lustenader, warming up.
Emily said I look menacing in this shot but that's actually what my smile looks like.
And for the piece de resistance, me sacrificing for my art by wheeling a leather office chair down the street (it's a long story).
But The Breakout is far from over — I'm doing some rewrites and getting ready for the film version as we speak (or at least, I'll resume doing that after I'm done with this post).
I don't think I've talked a lot about this project here because I haven't had much to share about it except for rough, home-recorded demos that sound kind of like they were recorded underwater, but for more than a year now, I've been working on a musical webseries called The Breakout.  But now, there is more than enough stuff to share about it!
The Breakout is about a misfit high school kid's quest to rescue the girl he loves from a psychiatric hospital, and the weird friends he makes and adventures he has along the way.  And on May 3, 2015, in San Francisco, California, excerpts from the show are going to be performed live on stage!
As part of a showcase run by a Bay Area theatre group called Play Cafe, we are going to perform 20 minutes from the show, and excerpts from shows by a few other Bay Area-based musical theatre writers will be featured as well.
To fit into the 20-minute format, the script needed to be significantly cut, the songs needed to be revised, and I needed to arrange the whole thing for piano — which means I didn't get a lot of sleep over the past few weeks.  But now, I'm back to at least 5 or 6 hours a night, because most of the front-end work is done.
Oh, by the way, I'm also playing a supporting role in the show!  Hey, at least I won't have to memorize the lyrics, as I've heard myself singing each song probably thousands of times.
I'll be sharing photos and clips from the rehearsal process here soon — for now, if you'd like more information about it, you can check out (and like!) its Facebook page.
I'm excited to share with you a video we shot of me and Robin Yukiko, who plays Sabrina in Steve's Quest, performing "Right in Front of You," which is the song I'm most proud of in the series.  Check it out: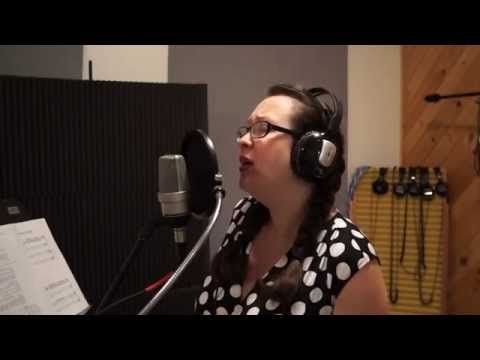 Recording and shooting this was a literally cross-continental production.  We recorded Robin's vocals in what was basically a guy's basement in State College, Pennsylvania (though it was a very well-equipped basement), near where she lives, and then I went back home and did my vocals at The Annex in San Mateo, California.  This has been a bi-coastal project from the beginning, which works fine for me because I have a lot of relatives and friends on the East Coast of the U.S.
The stripped-down, in-studio style of the video was inspired by all of those videos on Broadway.com showing the original casts of shows recording their vocals.  For a long time, I thought "I'll know I've made it once I have a Broadway.com in-studio video," and now I guess I have the next best thing!
I hope you enjoy the song and I'm looking forward to hearing your feedback.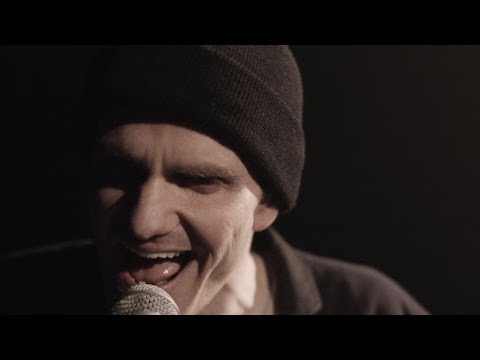 The video for the first single from my four-song EP, "Howl at the Moon," is now live (and posted above)!
This project has been several months in the making, and I'm enthused that it's finally done.  The director and I decided to shoot the video in a classic '80s hard rock style, with dramatic bits intercut with shots of the band playing, and I think we achieved the look we were going for (and hopefully Motley Crue and Skid Row fans will agree).
This was my first time being in a music video, and it was definitely an eye-opening experience.  The lion's share of the shoot, in the part I was featured in, was spent trying to get the camera angles right, and to make sure the right amount of steam filled the room (there were dry ice machines on the set that were misting about every 10 seconds).  As you will see, there are a lot of closeup shots of me singing, and the biggest challenge for me was trying not to move my head out of the frame while still performing with my usual manic intensity.
It was a bit overwhelming to see so many people (including the cast and crew) gather together to work on my project.  Of course, I found myself having the usual doubts — "am I actually important enough for all of these people to be working on my video?" and so on.
I think the best perspective to take on something like this, in order to get beyond the hangups about "being important" and so on, is that it's really just a bunch of people getting together to have fun — which, for the most part, is what we did.
I hope you enjoy the video, and I look forward to hearing what you think!
A few weeks ago, I composed the music for a promotional video (embedded below) for a foundation called Breakthrough Silicon Valley.  It was definitely exciting, because I've wanted to do this type of work for a long time.  Ideally, this sort of project will help me find other opportunities to do music for film and television.
The most challenging part of this project was that the tempo (speed) changes that happen in the music needed to be precisely synced to particular moments in the video.  You may notice this at the end, for example, when the final piano note plays at the same time that the Breakthrough logo appears.  But I do think the detail work we put into the video was worth it.
I hope you enjoy it — I've definitely got more musical stuff in the pipeline.
Well, it's taken longer than we expected (as I guess it always does), but Episode 2 of Steve's Quest is almost ready to go live!  To give you a taste of the graphical goodness to expect, I'll post below some screenshots from the episode — which, by the way, features even more over-the-top animation and music than our first offering.
Also, for those of you who didn't see the post on Facebook, I'm pleased to announce that Episode 1 of Steve's Quest has been selected to be screened at Gen Con, which is the U.S.'s largest gaming convention, in August.  I actually went there last year, but I didn't realize that it had its own film festival until I started doing festival submissions.
This year, my friends and I get to go for free, which is quite a thrill for me, since I've known, and been rabidly gaming with, the same friends for more than 25 years.  I may also be speaking on a panel or two regarding indie filmmaking, and I'll try to post a video of the panels if I end up participating in them.
Sabrina (Steve's love interest), her coworker Rona, and the sinister presence known only as The Boss.
A closeup of Sabrina.  The artists convinced me that she should not have a nose, because it gives her a more streamlined look.
Steve smiling as he asks Rona to come to his party, but a bundle of nerves on the inside.
Just in case you doubted that The Boss was a sinister presence.
Hope you enjoyed these!