Well, it happened much sooner than I actually thought it would — my new album, "Slow Burn," is now available for download on iTunes here, and at Amazon here!  It's the culmination of several months of writing, recording, mixing and MIDI programming.
It's funny how things build momentum — like I mentioned in my last post, six or seven months ago, I probably wouldn't have taken seriously the idea of playing the "lead singer" role in performing pop or rock material, which (having grown up in the '80s) I associated with a lot of Spandex, preening and posturing that didn't really suit my personality.
But I kept hearing from people (and by "people" I don't just mean "my Mom," although she was one of them) how much they enjoyed hearing me sing the songs, and I decided I wanted to try performing my own material at least once, just so I wouldn't end up wondering what it would have sounded like.
As for the style, I'd call it a quirky hybrid of rock, country, musical theater and mid-to-late '80s video game console music.  Whatever else might be said about it, it's definitely unique.
If you get the album, I hope you enjoy the tunes, and I look forward to hearing any feedback you might have (constructive or otherwise).
P.S. — you can listen to one of the complete songs, "At War," here.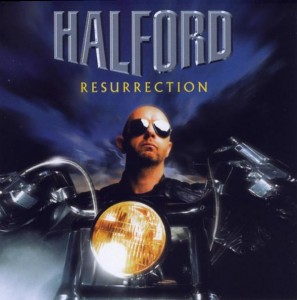 In the last chapter of this epic saga on what brought me to develop Steve's Quest, I talked about what led me to shift my focus away from impressing other people with my way of life, and toward doing something I actually liked to do.
Conveniently, my decision to do something more fulfilling came at a time when the pace of my law job had slowed.  Before, during lulls like that, I hadn't known what to do with myself, and I'd usually ended up, like any self-respecting office worker, browsing videos about dancing kittens and people falling off jetskis or roofs.
The Power of Positive PowerPointing
Now, at least, I could make better use of my time by looking at career alternatives.  Seeing as how I was in Silicon Valley, the first idea that naturally came to mind was to start a company that offered some kind of best-in-class, results-driven, turn-key, workflow-automation solution, and sell it for big bucks.
So, I spent the next few weeks putting together PowerPoint presentations describing what, at least at the time, I saw as killer startup ideas.
The funniest part of these slide decks was definitely the clip art.  In one slide, I wrote that starting my proposed company would be a "professional resurrection" for me.  Next to that statement, I put the cover of Judas Priest singer Rob Halford's solo album Resurrection (pictured above).  Totally rockin' album, by the way.
PowerPointing Proves Pointless
Anyway, in the midst of this frenzy of PowerPointing, the idea occurred to me:  if I did build a tech company and sell it for millions, what would I do with the money?
The answer, I realized, was that I'd somehow use it to help people forge their own dream careers.  No one, I thought, should have to suffer through days of online kitten-watching, or anything else they'd rather not be doing at work.
Inevitably, then, the question came up:  why spend years producing turn-key workflow solutions in order to make millions I can then spend on helping people find something they love to do, when I can find more direct ways to help people do that now?
Thus began the next chapter of my lifestyle explorations, which I will call the "life or career coaching, or consulting, or workshop leading" era to express my uncertainty about what I was really up to.
This ties into the more intimate and risqué aspects of my lifestyle redesign.  But more on those later!
I feel compassion for people who, when I tell them about a project I'm doing, immediately ask me "but how can you make money doing that?"
My sense is that people who ask this question are assuming that no work is worth doing unless you know you're likely to get paid for it.  I think that assumption not only limits the joy we can get out of life, but probably, and ironically, also limits our ability to make money.
My Most Fun Work Is Unpaid
For me, the most enjoyable activities in my life take up a lot of time and energy, and don't carry any promise of financial reward.  Songwriting, for instance, involves hours of trying out and throwing away musical ideas.
Not only that, but I don't get paid for the time I spend songwriting.  Maybe (and that's a big maybe) I'll earn something later from the sale of a song, music downloads, or something along those lines, but I don't get to charge anyone by the hour for messing around on my piano in search of inspiration.
All the same, if I stopped writing songs because there was no guarantee that I'd be compensated for doing it, I think my life would be much less interesting than it is right now.
We Get Paid More For Risking Getting Nothing
What's more, it seems as if the people who make the most money — who are, increasingly, entrepreneurs — do so because they're willing to try something others haven't attempted, and take a higher risk of coming away from their venture with "nothing to show for it" than most of us can stomach.
So, if money happens to be our priority (not that it really is for me), it could be that we actually do ourselves a disservice by refusing to do work that doesn't come with a guarantee of payment.
And for that matter, can we ever really know for certain how likely we are to make money doing anything, at least in the long term?
After all, even if I have a job that appears stable and safe on the surface, I can't say for sure whether I'll still have that job two weeks from today.  There's uncertainty surrounding everything we do for money, as hard as that might sometimes be to admit to ourselves.
That being said, I do think, on occasion, about ways I can make money doing music-related stuff, and how I can "monetize" all the other weird projects I'm involved in.  But I find that my life is a lot richer when I'm willing to accept the risk of not getting paid for the activities I do, and I spend as much time as possible doing things I like enough to do for free.
Photo of my place while writing this show (okay, actually some Steve's Quest background art)
Watching a few seconds of my show (which you'll be able to do very soon!) will probably make it clear that I didn't write the piece with any particular "market" or "demographic" in mind.
After all, the main character is a software engineer in his early to mid-twenties, and most of the other characters are in his age range.  However, the show's music is deeply influenced by rock music from the mid-to-late '80s — around the time people in their twenties today were being born.
That is to say, I didn't try to tailor the music or the content of the show to people in the age group of the main characters, or people of any other age, race, gender, income, IQ, shoe size, or anything else.  I wrote the piece purely based on what I see as entertaining and meaningful.
Strangely Enough, I've Been Doing Research
The funny thing is that, even though I set out to do this project solely to please myself, I've found myself doing a lot of "research" while writing the show — listening to songs from other musicals, reading excerpts from sci-fi novels, watching animes to get a sense of the art style I want, and so on.
As long as the research I've done has been in the service of getting my own, unique message across, as opposed to making sure I appease this or that "demographic," it's been surprisingly easy and even fun to do.
On the other hand, if I'd gone into the project with the goal of getting lots of visitors or ad revenue or some other measure of internet success, or modeled the songs or plot on past hit musicals, I probably would have felt too much resentment to stay as motivated as I've been.
Market Research and the Inner Sulky Teenager
I think the reason is this:  whenever I do anything from a place of trying to get approval, some part of me instinctively rebels.  There's a part of me that knows I'm okay whether or not people like me, and that part gets annoyed when I lose sight of that truth.  The result is passive-aggressive sluggishness.
Maybe there are people who don't feel this kind of resentment, or are able to just muscle through the part of them that hates approval-seeking.  But my sense, from just being with myself and talking to people, is that the best way to stay motivated in working on a project is to do something that would be compelling and exciting to you even if the rest of the world ignored it.
What do you think?  Is all this totally unrealistic or does it make sense?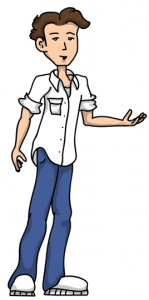 I know I went radio silent for a while again, but there has been method to my madness — I've been hard at work on my upcoming animated musical comedy, Steve's Quest. (If that doesn't ring a bell, I posted my rough, MIDI-licious demos of some of the songs from the show here.)
But the really amazing part is that, now, I'm not the only one who's working on it!  That's right, Steve's Quest is now a team endeavor.  I'm working with an art director and a number of visual artists on bringing Steve and friends to vividly colored life.
Speaking of art, I'll share a few of the concept pieces the art team has done so far for your enjoyment.  The picture you saw at the top of this article was our hero, Steve, a young software engineer and aspiring sci-fi novelist.  Here is Steve's roommate Andrew, who loves the (fictional) online role-playing game "WoodCraft 2" so much that he runs the go-to WoodCraft 2 website:
And this is a skyline shot of Metro City, a futuristic metropolis, circa 2063.  "How does this fit into the plot?" you may be wondering.  Stay tuned!
On the audio side, I've been fortunate enough to work with my brother, who basically lives in a recording studio and plays many instruments quite awesomely, and a talented cast of actors and singers.  Believe it or not, one of the singers who appears in the upcoming first episode was in the Broadway version of The Lion King.
We're planning to release the first ten-minute episode of Steve's Quest on YouTube and a few other video sharing sites, and a standalone site that's currently under construction, later this summer.  I'll definitely keep you updated on how it's progressing.
This is definitely one of the most exciting things I've done in a long time.  It seems like my life over the last few years has been about "peeling back the layers of the onion," experimenting with different possibilities and in the process getting closer to what I really want.  Doing that can be frustrating at times, but it's definitely better than trying to be "safe" and stay in a defined groove, and I'm really grateful it's led me here.
Looking forward to connecting with my fellow bloggers again soon!
If I see myself as a burden, I probably won't talk to you.  When I see you, I'll most likely think "oh, they must have so many interesting and fun people around them — they don't need me taking up more space in their life."  To make sure I don't bother you, I'll avoid you.
Or maybe I'll approach you, but I'll carefully plan how I'm going to behave to ensure that you don't see me as a burden or a waste of your time.  Maybe I'll make sure to mention how successful I've been at this or that, so that you know immediately that I'm "worth meeting."
But if I see myself as a gift, talking to you will be the obvious choice.  I'll see you and think "I'll give them the joy of connecting with me, and make both of our lives more fun."
What's more, if I have this mindset, I'll be okay even if you don't want to talk to me.  Your rejection may sting, but it won't shake my conviction that, in the grand scheme, my existence is a good thing for the universe.
The Same Goes For Creating Stuff
In my experience, whether I see myself as a gift or a burden doesn't just affect the way I meet (or don't meet) new people.  It also has a big impact on how I approach my creative projects.
If I see myself as an imposition on people, I probably won't write anything.  Each time I come up with an article idea, I'll talk myself out of writing the piece, thinking "so many people have probably written about this already — I'll bet I'd just bore everybody."
Or maybe I'll write the piece, but I'll try really hard to ensure that readers see how smart or original I am, and don't see me as dull or average.  Maybe I'll use lots of big words, or take months to write my piece because I'll constantly second-guess everything I say.
On the other hand, if I see myself as a gift, the act of writing will have a light, "flowing" quality to it, because I'll be secure in the knowledge that what I'm creating will uplift somebody out there.
Being A Gift Is The First Step, Not The Last
Experiences like these have convinced me that the conventional wisdom about creativity in our culture has it backwards.
We tend to think that, if we want to "be a gift" to others — if we want to contribute something to the world — we have to create something really amazing.  Once we've written that groundbreaking novel, we'll finally become worthwhile.
The trouble is that, if we refuse to see ourselves as a gift until that great project is complete, the project will be painful and difficult to do.  We'll be constantly worried about putting out inadequate work and burdening or bothering people, instead of feeling excited about how we're going to enrich others' lives with what we're doing.
So, I think that learning to see, and treat ourselves, as a gift to the world — even before we've "hit our peak" creatively — is crucial if we want to enjoy, and get a lot done in, our work.
With that said, I've got some more gifts to shower you all with.  In my last post, I shared some of the videos I've been doing recently, and they sure provoked some interesting discussion.  I hope the next four I'll share in this post will do the same. Enjoy!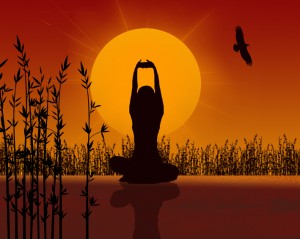 Recent Guest Posts
I was excited to recently contribute two guest posts to Lifehack.org:  "What Meditation Can Teach Us About Productivity" and "What Yoga Can Teach Us About Productivity."
I didn't announce these posts here earlier, because they are meant as introductions to my work, and I know this blog is only read by my advanced, graduate-level students.  :)  But seriously, I thought I'd mention them here in the hope that my regular readers might get some value out of them.  I hope you are among those value-getting readers! 
Upcoming Talk and Workshop at EastWest Bookstore
Also, I wanted to mention that I and yoga instructor Rosy Moon will be offering an interactive talk on July 1, and a full-day workshop on July 2, at EastWest Bookstore in Mountain View, California.  If you're in the Bay Area and you're interested in finding more focus, peace and motivation in your work, this is definitely the place to be.  Looking forward to meeting you in person if I haven't done so yet.
Best, Chris
Here's something that doesn't make much logical sense.
I imagine that, at some point in your life, you worked on a task that felt really "make or break" to you.  Maybe it was a project for an important client at work, or perhaps you were a student and preparing to take a test worth a big share of your grade.  Whatever it was, your whole career seemed to depend on your success at it, and "failure was not an option."
When Starting Is Not An Option
Have you ever noticed that these "make or break" projects are actually the ones you have the most trouble starting?  That, the more that seems to be "riding" on the outcome, the harder it is to make progress?
From a rational perspective, this is hard to understand.  You'd think we'd dive headfirst into a task we see as "mission critical."  Isn't that what all the motivational bestsellers tell us — that we need to "chase success as if our lives depend on it"?
But when we look at this issue from an emotional perspective, it starts to make sense.  After all, if I really believe that making a mistake in my project could "break" me or my career, that probably means I'm basing my sense of self-worth on how well I perform.
If my self-worth depends on how my work is received, of course I'm not going to start my project.  This is because, if I finish my task and present it to the world, I'll run the risk that people will see what I've done as inadequate, and then I'll have to feel inadequate.
I think this is one reason so many people seem to have a book they've been "meaning" to write, or a business they've been "planning" to start, for the last ten years.  They're worried that, if they come out with a final product and others don't appreciate it, they'll stop appreciating themselves.
Being Okay With Our Non-Okayness
Now, it would be easy for me to say that "the solution is to be okay with yourself no matter what."  But as I think you know, that's not so easy in practice.  Building up our basic sense of "okayness," in my experience, takes work, and there's no "30-day miracle cure."
One practice I've found simple and effective, though, is to watch carefully for moments when you're basing your sense of self-worth on the results you get in your work.  When you notice yourself thinking this way, just acknowledge what's going on, without trying to change it.  Simply admit to yourself:  "I'm worrying that, if people don't approve of my work, I won't approve of myself."
When I do this, I often feel the sense of heaviness in my body dropping away, and find myself chuckling out loud.  When I look directly at the painful story I'm telling myself, rather than trying to push it aside or pretend it isn't there, the light of my awareness tends to burn it away, like the sun burning off the clouds.
On a practical level, when I let go of the sense that a project can "make or break me," and see it more as a chance to play and experiment, I find concentrating and finishing my work so much easier.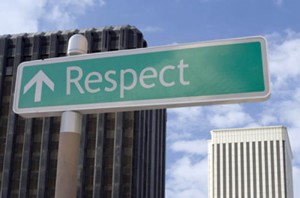 At a corporate job I did a while back, there was a manager whom everybody saw as a "royal terror."  People regularly left his office in tears, and left the company soon after.
One day, I asked a colleague why this man acted the way he did, and my coworker's answer was interesting:  "he's earned the right to act that way.  He's worked his way up to the top."
At first blush, this sounded silly to me.  "What do you mean, he's 'earned the right'?" I thought.  "Did God appear and tell him he could treat everyone like dirt?"
Waiting For Permission To Be Me
But later, it dawned on me:  in a way, I was trying to do exactly what this difficult boss had supposedly done.  I often had thoughts like:  "if I do really well at this job, I'll start respecting myself, and I won't be so scared of getting put down by other people," or "if I get a lot of praise for my work, I'll stop being so hard on myself."
In other words, just as this manager had, according to my friend, "earned the right" to rage at his subordinates, I was trying to "earn the right" to treat myself decently.
This may sound weird to you, but if you take an honest look at your own life, I suspect you'll find some place where you're striving to "earn the right" to be the person you want to be — and denying yourself permission to be that person right now.
For example, some people I know tell themselves:  "If I work hard enough and make enough money, I'll be able to spend more time with my family."  Or maybe, one day, they'll finally "deserve" to relax, be with the partner they want, or something else.
Giving Ourselves Permission
This idea that we have to "earn the right" to be or feel a certain way is deeply ingrained in our culture.  Unfortunately, I think, it leads to a lot of suffering.
After all, like I said, God doesn't seem to be in the habit of showing up and telling people when they've made enough money, received enough degrees, or developed firm enough abs to be who they want to be.  If we're waiting for someone to give us permission to be fully ourselves, we're setting ourselves up for disappointment.
At a deeper level, I think, "I haven't earned the right to be that way" is a story we tell ourselves to keep at bay feelings we'd rather not experience.  If I convince myself that I "don't have the right to be angry," the payoff is that I don't have to feel the discomfort, and handle the conflict, that can come with expressing anger.
The trouble with telling ourselves this kind of story is that, when we cut ourselves off from feelings that are hard to be with, life takes on a dull, muted quality.  Keeping ourselves from feeling angry, sad, compassionate, or whatever the emotion might be takes energy and leaves us drained.
So, I think we can all stand to ask ourselves:  if I gave myself permission to do what I want to do, and feel how I want to feel, how would I show up in the world?  Where am I holding back from expressing my joy, anger, or sadness?  For me, it's been a scary but powerful question.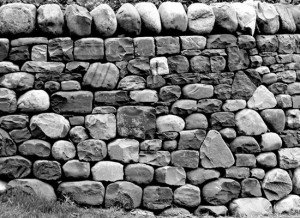 My focus used to be on helping people find fulfilling careers.  Like many of us, I assumed that, as soon as we find the "right" career — something we're passionate about, that pays the bills, that gives us a flexible schedule, or has whatever else we're looking for in a "dream job" — we'll get the joy we want out of our work.
After spending more time talking and working with people, I noticed something that changed my mind.  What I saw was that, after they changed careers, people tended to gripe about their new jobs or businesses in exactly the same ways they once complained about their old ones.
Back when a friend of mine was working a 9-to-5 job, he used to say, when asked about his work, that he "didn't want to talk about it."  Eventually, he started his own business, hoping to "do something that didn't feel like a job."  Unfortunately, a few months into his entrepreneurial stint, he began noticing himself telling people he "didn't want to talk about" how his business was doing.
Wherever You Work, There You Are
Examples like this taught me that, while we usually think we dislike our work because we have a bad job, often the problem has more to do with our relationship with ourselves.  My sense with the friend I mentioned, for instance, is that, on some level, he simply doesn't see himself and what he does as worth talking about.  It's no wonder, then, that he keeps "not wanting to talk about" everything he takes part in.
Perhaps you've heard this kind of talk before — "wherever you go, there you are," and all that.  What we don't usually hear, however, are suggestions for how to become aware of, and transform, these habits of thinking and feeling.  I'll talk about an approach I've found useful.
An Awareness-Building Exercise
Believe it or not, in the productivity workshop I lead with a yoga teacher, one of the exercises involves sitting in front of a wall, and staring at a piece of tape for half an hour.  The only thing the participants have to do is, whenever their minds wander away, simply bring their attention back to the tape.
After the exercise, we ask people what they experienced as they did it.  We usually find that they had a wide range of thoughts and sensations — some felt antsy, some got sleepy, some were annoyed at me for "making them" go through this process, and so on.
But we almost always learn that, no matter what a person feels while staring at the wall, it'll be a feeling they've had before.  For example, if they notice themselves internally griping "there's no point in doing this" during the exercise, that's probably something they often think while they're doing a project at work.
In other words, what this exercise teaches people is that they – not their jobs, their bosses, the office furniture or anything else — are the ones creating the suffering they're going through in their work.
Just getting conscious of this, I've found, can create a big shift in perspective.  In my experience, when we become aware of how much power we have over the way we experience the world, we often find ourselves spontaneously using that power to let go of ways of thinking that have troubled us in the past.