Steve's Quest is an upcoming, online animated musical web series about a young software engineer and his struggles with work, love and getting a sci-fi novel published.  To hear some of the music and see some concept art from the show, listen to the soundtrack so far here, or check out the videos below.  You can follow the show's development on this blog and on Facebook.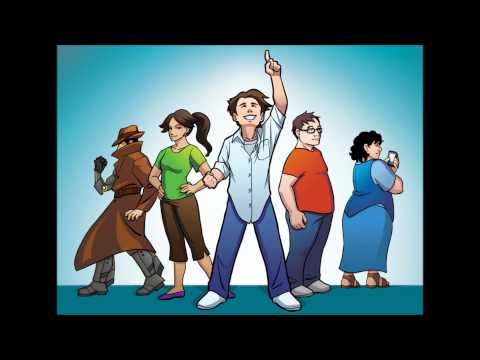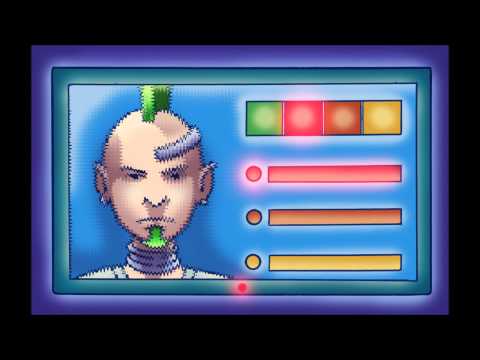 The Story
Steve
Steve's dream is to be a science-fiction novelist, and he's completed a draft of a cyberpunk-themed novel, The Chronicles of Gain, Part 1: Under a Plastichrome Sky. Steve hasn't quite worked up the nerve to send his manuscript to publishers, not least because his domineering mother keeps telling him to focus on his "real job," and give up on his pipedream of authorial stardom.
"Cyberthugs" from Steve's Novel
Steve's "real job" is being a coder at NextComm, a "cubicle farm" and software company. Steve doesn't like working at NextComm, but he's stayed there due to his obsession with his beautiful and brutally honest cubicle farm-mate Sabrina (which he's also still working up the nerve to tell her about). Since Steve is barely skating by at work, his boss is always on his case.
NextComm
Will Steve get his novel published? Will he get the girl? Will he keep his job? All these questions and more will be answered. But there are deeper questions at play in Steve's Quest as well, like what it means to grow up, and what manhood is about, in today's culture. And there's a liberal dollop of silliness too.
The Music
Steve's Quest composer Chris Edgar grew up in the 1980s and, after The Beatles, the hard rock of that era (Dokken, Queensryche, Whitesnake, etc.) was the first style of music he listened to as a kid. His second big influence, and guilty pleasure, is video game soundtracks, from games like Guilty Gear and Cadillacs & Dinosaurs. You'll also hear traditional musical theater influences in the show, and these ingredients make for a unique and flavorful mix.
The Schedule
Episode 1 of Steve's Quest is scheduled for release in December 2013. We'll also release a trailer a few weeks before Episode 1 goes live, and put out plenty of behind-the-scenes and outtake videos as well.
Stay Connected
Join the Steve's Quest fan page on Facebook, or follow the creator on Twitter for updates on the show.
The Credits
| | |
| --- | --- |
| Musicians | |
| Guitar, Bass, Keyboards | TIM EDGAR |
| MIDI Programming | CHRIS EDGAR |
| | |
| --- | --- |
| Cast (in order of appearance) | |
| Steve | CHRIS EDGAR |
| Narrator | GINA BREEDLOVE |
| Steve's Mom | MEREDITH DIMENNA |
| Andrew | MICHAEL PETERSON |
| Office Worker #1 | GINA BREEDLOVE |
| Office Worker #2 | TIM EDGAR |