Thursday, August 22nd, 2013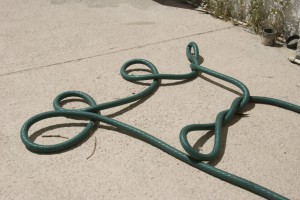 I don't know about you, but I usually feel the most love and compassion toward people right after I tell them I'm irritated about something they did.  Somehow, revealing that I'm annoyed at them frees up my ability to truly love them again.
I had this kind of experience recently with a friend.  My friend was giving me some advice, and talking to me in a way that seemed condescending to me.  I debated for a while whether I was going to tell him, and eventually I bit the bullet.
When I told him I was feeling resentful as he was talking to me, I suddenly felt a great deal of tension in my shoulders melting away, and I got back in touch with how much I cared about him.  Immediately, I found myself saying how deeply I valued having him in my life.
On the other hand, if I'm annoyed at someone and I hide it, I tend to feel tight and anxious around them, and experiencing real love for them gets hard.  If I tell them I love them, my voice has a deadpan or barking quality to it.
The Hose Metaphor Explained
A mentor of mine once described this kind of experience by saying that each person is like a hose.  The water flowing through the hose is like the collection of all the emotions we feel — love, anger, sadness, and so on.
If we try to pretend we're not feeling something, we basically kink up the hose and cut off the water.  When we do this, we stifle all the emotions flowing through the hose — not just the one we're trying to avoid.  So, if we push our anger away, we end up pushing love away as well.
Love Can Thrive Alongside Anger
For a long time, I didn't understand how all this works.  I believed, as I think many do, that love is basically the opposite of emotions like anger and boredom, and can only exist when anger is absent.
But the truth, I think, is that love is something that naturally arises when I'm fully open to what I'm feeling, wherever it might take me — basically, when I un-kink the hose.  If I'm willing to acknowledge and even show my irritation, I get access to love as well.
Sometimes admitting what's really going on for me is easier said than done, but I think experiencing genuine love is worth the struggle.
Related posts: