Tuesday, February 19th, 2013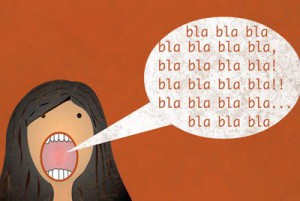 I used to worry about "overstaying my welcome" with people in my life — talking to them too much, or hanging out with them too often, and causing them to get bored or irritated with me.  Or maybe, if I spent too much time with them, they'd start wondering whether I had anyone else to be with.
Believe it or not, the same concern would come up when I was about to write a blog post or say something on Facebook.  If I post too often, I thought, won't people get tired of me, and stop reading and interacting with me?  Don't I have to be really careful not to talk too much?
My Stunning Realization that Other People Are Grownups
These days, although the same issue still comes up for me from time to time, it feels a lot less important.  The reason is that I eventually realized that other people, seeing as how they're adults, can actually make their own decisions about how much time they want to spend with me.
After all, if I hold back from talking to someone because I'm worried that they'll get sick of me, aren't I assuming they can't protect their own time?  That they're incapable of telling me that they'd like to spend some time alone, or spend it with somebody else?
In other words, if I assume people can't say "no" to my requests for their time, I'm basically treating them like children who haven't yet developed the ability to communicate what they want, and need me to take care of them.
. . . And That I'm a Grownup Too
Also, I've come to see that, if I'm avoiding someone because I'm worried about "taking up too much of their time," it's probably because, on some level, I'm afraid of how I'll feel if they say they don't want to be with me.  In a sense, then, I'm treating myself like a child, because I'm assuming that I'm too fragile to handle the intensity of hearing "no."
Now, there may in fact be people out there who just couldn't bring themselves to tell me if they didn't want to spend time with me.  (Who knows, maybe lots of people secretly feel that way!)  And it may be that, sometimes, I'm feeling kind of sensitive, and hearing someone say they don't want to be with me will be painful.
Still, I think it's more respectful, and does more to promote growth — both other people's and mine — if I treat myself and others like adults, and I let others be the judge of how much time they want to spend with me, instead of trying to decide for them.
Related posts: