Friday, June 8th, 2012

As I noted earlier, the Steve's Quest team is like a volcano thunderously erupting with raw, molten talent.  Okay, that may not have been a very good analogy, but the point is that they're talented.  I'll share the details on some more members of our team and the molten-hot art they've been doing.
Kat Valliant is a UI and 2d illustrator, character and creature designer, comic artist and graphic designer.   Most recently, she completed nearly 100% of the assets for the Android game Word Train.
Here is one of Kat's pieces for Steve's Quest, which is a drawing of Gain, the hero of Steve's cyberpunk-themed novel, The Chronicles of Gain, Part 1: Under a Plastichrome Sky:
Michelle Poust is a freelance illustrator, inker and comic colorist.  Michelle has been designing some of the electrifying backgrounds (I think that's a better adjective than "molten," or at least it offers some variety) we're using in the show.
Here is one of Michelle's scenes from Metro City, the futuristic metropolis depicted in Steve's novel (you can see another Metro City scene here):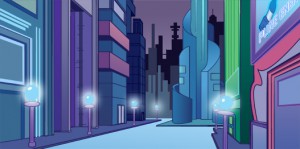 Consuelo Griego leads a user engagement consultancy focused on turning good ideas into value added apps.  In addition to that, she also does website and graphic design stuff.
Consuelo patiently did about twenty iterations of the Steve's Quest logo for me before I gave the okay. She has also done some excellent work on the layout of this site.
In case you haven't seen it before, this is our logo, in all its streamlined, metallic glory:
I look forward to sharing more with you soon!
Related posts: