Tuesday, June 5th, 2012

One of the characters in Steve's Quest, Steve's roommate Andrew, is an aficionado of the fictitious online role-playing game WoodCraft 2.
Okay, that's a serious understatement — Andrew not only spends most of his time playing WoodCraft 2, but he also operates the go-to website for all WoodCraft 2 lore, WoodCraftUniverse.com (don't look for it — it doesn't exist yet).  The site has become so popular that, due to its ad revenues, Andrew has, quite inadvertently, become the "work-at-home online entrepreneur" so many bloggers dream of being.
What's more, Andrew also met his girlfriend Vashi while playing WoodCraft 2, during a desperate battle against some Giant Leech Mage Lords, and they worked so well as an adventuring duo that they decided to meet offline.
I decided to give Andrew his WoodCraft 2 obsession not only because I wanted to poke a little fun at massively multiplayer online role-playing games (or MMORPGs), most notably the other MMORPG that begins with a "W," but because I wanted to offer my own take on this phenomenon.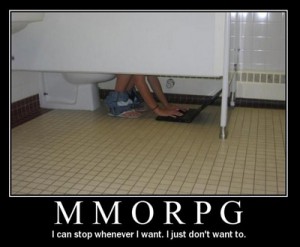 Think About The Children?
On one hand, it's easy to be concerned or dismissive about MMORPGs.  Kids (using the term loosely, since people I know in their 30s and 40s play these too) are clearly spending lots of time on them.  Isn't that taking away from the time they could be spending on doing schoolwork, socializing, playing sports, or something else?
What's more, these games, although they're usually not as violent as, say, first-person shooters, almost always involve fighting.  Is that encouraging violence as a means of problem-solving?
On the other hand, the kids I know who play these games almost always cooperate — they go adventuring and slay Ogre Ravagers and find treasures in groups, and are in constant communication about the strategies they need to use to complete their quests.
Maybe these games offer kids who get anxious in social situations opportunities to explore cooperation and leadership in ways they don't feel able to do at school.  Maybe kids need some imaginative refuge from their stifling school environments once in a while and these games offer it.
The Anticlimax: I Don't Have An Opinion
The answer isn't 100% clear to me.  Sure, there are kids who play MMORPGs to an unhealthy degree, but there are also kids who do lots of other stuff to an unhealthy degree — that's probably not a good enough reason for parents to prohibit their children from playing the games across the board (or for the 20- to 40-year-old adults who also play them to prohibit themselves from playing).
If the kids who play these games were forced to go, say, play lacrosse instead, would that be healthy for them?  Would that help them grow into more "successful" adults, by whatever standard, or at least help them to be considered cooler by their peers?  It's hard to say.
What do you think about these kinds of games?  Should teenagers be forbidden to play them?  Does it depend on how the game fits into the specific kid's life?
Related posts: