Saturday, May 26th, 2012
I'll share a bit more with you about the story of Steve's Quest.  Like I've said, the show is an animated musical comedy about a young software engineer and his journey of personal growth, but I'll go into a tad more detail while trying to avoid serious spoilers.  I'll also include some concept art, like I did earlier, to give you a visual sense of what we, the Steve's Quest team, are going for.
Steve's dream is to be a science-fiction novelist, and he's written the manuscript for a cyberpunk-themed novel, The Chronicles of Gain, Part 1: Under a Plastichrome Sky.  Here is an early drawing of one of the "cyberthugs," mechanically enhanced minions of the crimelord Wotan, described in Steve's novel:

Steve hasn't quite worked up the nerve to send his manuscript to publishers, not least because his domineering mother keeps telling him to focus on his "real job," and give up on his pipedream of authorial stardom.
Steve's "real job" is being a coder at NextComm, a "cubicle farm" software company.  Steve doesn't like working at NextComm, but he's stayed there due to his obsession with his beautiful and brutally honest cubicle farm-mate Sabrina.  Since Steve is barely skating by at work, his boss is always on his case.
Here is a concept drawing of NextComm in all its grey, angular, air-conditioned glory: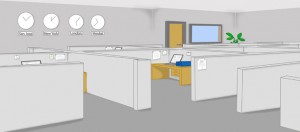 And one of Steve's equally monochrome coworkers:
Will Steve get his novel published?  Will he get the girl?  Will he keep his job?  All these questions and more will be answered.  But there are deeper questions at play in Steve's Quest as well, like what it means to grow up, and what manhood is about, in today's culture.  And there's a lot of silliness too.
Looking forward to bringing you the show this summer!
Related posts: