Saturday, May 19th, 2012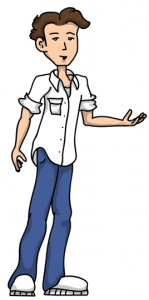 I know I went radio silent for a while again, but there has been method to my madness — I've been hard at work on my upcoming animated musical comedy, Steve's Quest. (If that doesn't ring a bell, I posted my rough, MIDI-licious demos of some of the songs from the show here.)
But the really amazing part is that, now, I'm not the only one who's working on it!  That's right, Steve's Quest is now a team endeavor.  I'm working with an art director and a number of visual artists on bringing Steve and friends to vividly colored life.
Speaking of art, I'll share a few of the concept pieces the art team has done so far for your enjoyment.  The picture you saw at the top of this article was our hero, Steve, a young software engineer and aspiring sci-fi novelist.  Here is Steve's roommate Andrew, who loves the (fictional) online role-playing game "WoodCraft 2" so much that he runs the go-to WoodCraft 2 website:
And this is a skyline shot of Metro City, a futuristic metropolis, circa 2063.  "How does this fit into the plot?" you may be wondering.  Stay tuned!
On the audio side, I've been fortunate enough to work with my brother, who basically lives in a recording studio and plays many instruments quite awesomely, and a talented cast of actors and singers.  Believe it or not, one of the singers who appears in the upcoming first episode was in the Broadway version of The Lion King.
We're planning to release the first ten-minute episode of Steve's Quest on YouTube and a few other video sharing sites, and a standalone site that's currently under construction, later this summer.  I'll definitely keep you updated on how it's progressing.
This is definitely one of the most exciting things I've done in a long time.  It seems like my life over the last few years has been about "peeling back the layers of the onion," experimenting with different possibilities and in the process getting closer to what I really want.  Doing that can be frustrating at times, but it's definitely better than trying to be "safe" and stay in a defined groove, and I'm really grateful it's led me here.
Looking forward to connecting with my fellow bloggers again soon!
Related posts: