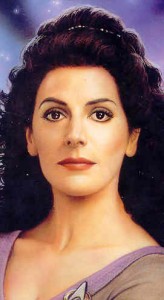 There's been a lot of hubbub about a recent study on the relationship between men's facial expressions and their attractiveness to women.  According to the study, when presented with photos of smiling and brooding men, the female test subjects said they were more attracted to the unhappy-looking men than to the happy-looking ones.
Not surprisingly, lots of people writing about the study concluded that, if they want to attract women, men should try to look tough or even ashamed, and avoid smiling.
Am I a Betazoid?
When I read articles that say I should put on some facial expression, or display some kind of body language, to get people to like me, I tend to feel a little alien.  I start to wonder:  am I the only one who finds it painfully obvious when a person is trying to look a certain way?
In my experience, when someone smiles, I can instantly tell if they're really enjoying themselves, or just trying to look happy for my benefit.   By the same token, it's immediately clear to me when someone's trying to look puffed up and tough to hide their fear.
Though I'm a fairly empathic guy, I suspect I'm not the only person who can tell when someone's hiding what they truly feel — what with me being human just like everybody else, and all.  But if that's true, why is there so much advice out there about "winning body language"?  Don't the people who give that kind of advice see how unhelpful it is?
No Empathy Allowed
What I've come to believe is that, in our culture, there's a sort of unspoken agreement that we won't admit how empathic we are.  I'll pretend I don't see that you're unhappy, so long as you act like you don't know I'm angry.  You'll smile back at me, although you know my smile is fake, and I'll do the same for you.
I think this unspoken agreement is rooted in our fear and distrust of each other.  We're afraid that, if someone saw how we were really feeling, that might put us in danger.
After all, if you saw I was feeling sad or distressed, maybe you'd make fun of me, or attack me in my moment of weakness!  So, it seems easier for us all to pretend we can't sense each other's emotions — that way, nobody needs to feel unsafe.
The trouble with this unwritten rule is that it leaves a lot of us starving for real connection.  If I have to pretend I don't know how you're feeling, I can't offer you compassion and a chance to talk about what's going on, unless you come out and ask me to.  And to many people, asking for another person's compassion sounds about as inviting as sticking their head in a lion's mouth.
Are You Really "Fine, Just Fine"?
So, because I want to feel genuinely connected to people around me, I've taken to letting people know when something seems "off" to me — when I get the sense that their words and expression don't match how they're actually feeling.
I try not to put this in an accusing way, as if they're lying or doing something wrong.  I just ask whether something's going on that they'd like to talk about — "are you really 'doing fine,' or is something up?"  This isn't always easy, and people don't always want what I'm offering.  But much of the time, it creates a far deeper and more satisfying conversation.