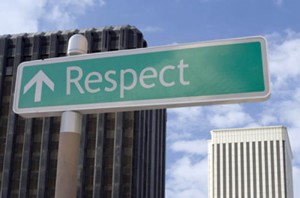 At a corporate job I did a while back, there was a manager whom everybody saw as a "royal terror."  People regularly left his office in tears, and left the company soon after.
One day, I asked a colleague why this man acted the way he did, and my coworker's answer was interesting:  "he's earned the right to act that way.  He's worked his way up to the top."
At first blush, this sounded silly to me.  "What do you mean, he's 'earned the right'?" I thought.  "Did God appear and tell him he could treat everyone like dirt?"
Waiting For Permission To Be Me
But later, it dawned on me:  in a way, I was trying to do exactly what this difficult boss had supposedly done.  I often had thoughts like:  "if I do really well at this job, I'll start respecting myself, and I won't be so scared of getting put down by other people," or "if I get a lot of praise for my work, I'll stop being so hard on myself."
In other words, just as this manager had, according to my friend, "earned the right" to rage at his subordinates, I was trying to "earn the right" to treat myself decently.
This may sound weird to you, but if you take an honest look at your own life, I suspect you'll find some place where you're striving to "earn the right" to be the person you want to be — and denying yourself permission to be that person right now.
For example, some people I know tell themselves:  "If I work hard enough and make enough money, I'll be able to spend more time with my family."  Or maybe, one day, they'll finally "deserve" to relax, be with the partner they want, or something else.
Giving Ourselves Permission
This idea that we have to "earn the right" to be or feel a certain way is deeply ingrained in our culture.  Unfortunately, I think, it leads to a lot of suffering.
After all, like I said, God doesn't seem to be in the habit of showing up and telling people when they've made enough money, received enough degrees, or developed firm enough abs to be who they want to be.  If we're waiting for someone to give us permission to be fully ourselves, we're setting ourselves up for disappointment.
At a deeper level, I think, "I haven't earned the right to be that way" is a story we tell ourselves to keep at bay feelings we'd rather not experience.  If I convince myself that I "don't have the right to be angry," the payoff is that I don't have to feel the discomfort, and handle the conflict, that can come with expressing anger.
The trouble with telling ourselves this kind of story is that, when we cut ourselves off from feelings that are hard to be with, life takes on a dull, muted quality.  Keeping ourselves from feeling angry, sad, compassionate, or whatever the emotion might be takes energy and leaves us drained.
So, I think we can all stand to ask ourselves:  if I gave myself permission to do what I want to do, and feel how I want to feel, how would I show up in the world?  Where am I holding back from expressing my joy, anger, or sadness?  For me, it's been a scary but powerful question.