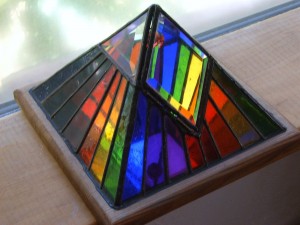 Well, as advertisers are helpfully reminding us, Valentine's Day is just around the corner.  For me, as for many other people, this can be a time of irritation.
This isn't because I'm what our culture calls a "single guy."  I enjoy that, actually.  It's because this is the time of year when I get to hear people lament how long it's been since they've been "in a relationship," or since they've done whatever other romantic thing they think they should be doing.
One Person's Romantic Comedy Is Another's Horror Movie
The most frustrating part, when I listen to these people, is that they don't seem to be paying attention to what they actually want.  Instead, they're measuring themselves against what they see as the culture's expectations, and blaming themselves for falling short.
"My friends are all married," I hear (and I'm sure you've heard) people complain.  When I hear this from someone, I try to respond compassionately.  But I have to admit, sometimes I just want to caustically remark:  "that makes perfect sense — after all, the rule is that you have to do whatever your friends do!"
And, of course, there are people (mostly men, but not exclusively) who will be able to tell me, to the month, day and hour, how long it's been since they "got laid."  Hearing this, it's all I can do to keep my inner Captain Sarcastic from spitting out:  "true, if you don't 'get some' soon, you'll lose your place at the 'jock' table in the high school cafeteria!"
The saddest part of this, in my experience, is that many people stay dissatisfied even if they do find what they say they're looking for.  Trying to live into somebody else's vision of how romance or intimacy should be, I think, is a recipe for suffering.
What Do You Really Want?
If someone is griping to me about their "singlehood" (at least, I think that's the right word), and they're really willing to explore the issue, what we'll often discover is that they don't even want to be married, "in a relationship," or whatever else, right now.  They are hurting because they're telling themselves it's wrong not to want those things, and beating themselves up.
In my experience, when people become willing to admit that lack of desire, often it's as if a weight lifts from their shoulders, and their bodies feel lighter.  What's more, amazingly enough, sometimes acknowledging they don't want intimacy actually opens the way for them to want it again.
Why?  I think it goes back to what I talked about in my post on "finding compassion through selfishness."  We're all made up of a bunch of different parts, or, as some put it, "selves" or "energies" — the aggressive part, the solitary part, the outgoing part, and so on.
Calling Out Our Doubts
As I put it earlier, the way I see it, each person is like a prism — something that breaks up a beam of light into the colors of the rainbow.  Sometimes, we don't like one of the colors — the anger, the hurt, or something else — and so we cover up the prism.  The trouble is, when we do that, no light can get through.
We all, I think, have a part that wants connection with others.  But we also have parts that are cautious, hurt, untrusting, and so on.  When we tell ourselves it's not okay to feel afraid or unready about intimacy, and we push the hesitant parts of ourselves down, we can cause ourselves a lot of pain.
I've found, both in myself and in talking to people, that it can be so liberating when we acknowledge the areas where we're uncertain, and it can actually help create the connection with others that we're looking for.