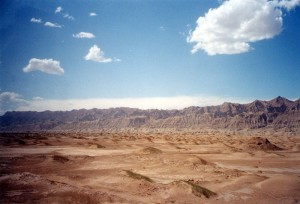 I've written before about how it's helpful, when you're facing writer's block, to just sit with that sense of creative emptiness, and allow it to pass away on its own — rather than beating yourself up for being uncreative, or distracting yourself from the emptiness by playing Minesweeper.  When we learn to just let the writer's block be, instead of resisting it, we get more inspired and productive in what we do.
In this post, I want to expand on why this is.  One thing I often say is:  "If you can't be with emptiness, you can't be with content."
Emptiness and Procrastination
What I mean is that, no matter what creative project you're working on — whether you're painting a picture, drafting a business plan, or something else — you'll inevitably encounter moments when your mind feels empty of useful ideas.
Many people, in my experience, can't bear those moments.  For them, staring at a blank screen, canvas, or other empty surface, is agonizing.  Because they know, consciously or not, that working on their project will involve empty moments, they find it easier to put the project off, or perhaps never to start in the first place.
So, because they can't tolerate creative emptiness, they can't generate the creative content they want to bring into the world.  It seems we need to get comfortable with emptiness if we want to make sustained progress in our work.  But how can we do this?
Why Is Blankness So Bad?
In my experience, it's helpful to become aware of why emptiness is a problem for us.  When we closely examine the reasons why we see writer's block as a threat, we often recognize that it isn't so dangerous after all.
What I've found is that the fear of blankness is often driven by a sense of urgency.  We think "I've got to put my work 'out there' as quickly as possible."  If you can relate, I invite you to ask yourself, in those anxious moments:  "What will happen if I don't finish this project immediately?"
Often, the answer to this question is rooted in a desire to be seen and appreciated.  In other words, it comes from the ego.  "If I don't finish this project, the world may never recognize my brilliance.  I may never get written up in the New York Review of Books.  I may 'die with my music left in me.'"  And so on.
Now, I don't mean to put down the ego — we all have one, and without some degree of concern for our own advancement we probably couldn't survive.  But I do think it can impede our progress in our creative work.
Content Needs Emptiness
So, if you find this fear that you'll "die with your music in you" arising, consider these questions:  what if it isn't really "your" music at all? What if the ideas at the core of your project aren't really "your" ideas?  What if you are simply an instrument on which the universe plays its music?
At a deeper level, what if you are not just the instrument, but also the music? What if you are not just a body, small and limited in time and space, but a limitless creative energy suffusing all that is — just as a wave on the ocean, in some sense, is the ocean?
If all this were true, why would a moment of blankness bother you?  A pause in a piece of music creates tempo and expectation — without space, music would be a confusing, unpleasant jumble of sounds.  Without emptiness, content cannot exist.
The next time writer's block comes up for you, see if these questions help bring you peace and focus.