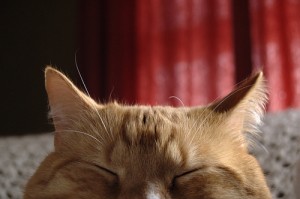 (This is an unofficial sequel to my piece at The Change Blog called "What To Do When Meditation Gets 'Hard.'")
Nearly 100% of the time (and it happened again last night), when someone asks me a question about meditation, it goes like this:  "I can't meditate because I can't empty my mind."  Because this seems like a common concern, I thought it might be helpful to offer my take.
Notice that this question assumes that meditation is supposed to give you a particular experience — an experience of mental emptiness.  If you don't have that experience when you meditate, you're "doing it wrong," and you need to change your approach.
"Getting It Right" And Suffering
Of course, this is a familiar way of thinking.  For example, we tend to assume that, if I'm feeling unhappy, I need to change some aspect of how I'm living — maybe get a new job or relationship.  If I'm feeling angry, I need to vent my anger, or do something to "improve" my mood.
In other words, we're deeply conditioned to treat certain experiences as "right" and others as "wrong."  If we're having a "wrong" experience, we assume, we need to do something to make sure we have a "right" one going forward.
The trouble, as the Buddha pointed out, is that this is the very mindset that creates suffering.  We suffer when we label our present experience as "wrong" and demand a different one — making complaints like "I should have more money," "I should be happier," "I should have a better relationship," and so on.
A Place Where It's Okay To "Get It Wrong"
As is often said, meditation gives us a chance to let go of this habit of judging our experience.  Instead of resisting our thoughts and sensations, and grasping for "better" ones, it allows us to simply permit whatever experiences arise to be, just as they are.
We miss this opportunity when, as so many do, we see meditation as just another way to seek out a "good" experience.  Many of us, like I said, see meditation as a method for chasing the experience of mental blankness.  Others are chasing inner peace, relaxation, and so on.
The irony, I've found, is that letting go of the judgments we put on our experience is actually what produces peace.  We're at peace when we're no longer fighting against our current reality and trying to force it to be different — saying "no, I shouldn't be thinking, I should be empty."
Experience-Chasing In Moderation
I don't mean to say that avoiding certain experiences, and pursuing others, is always "bad."  After all, as human beings, we couldn't exist if we weren't chasing certain experiences from time to time — fleeing the experience of hunger and chasing the experience of having a full belly, for instance.
My point is that meditation gives us an opportunity to take a break from the cycle of constant experience-chasing — also known as the karmic wheel, or the cycle of suffering.  When we learn to see it that way, I think, it can be an intensely liberating thing to do.