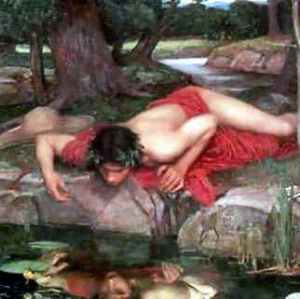 Many of us know the story of Narcissus — the boy who drowned because he fell in love with his reflection in a lake, and jumped in hoping to embrace his image.  At first glance, this story seems to be about the dangers of loving yourself too much.  If Narcissus had only taken his attention off himself and put it on others' needs, we tend to think, he wouldn't have died.
But a mentor of mine told me a different, and convincing, interpretation of the story.  As he pointed out, Narcissus didn't actually love himself at all — he loved his reflection.  After all, Narcissus didn't need to jump in the lake to be with himself — he did it because he wanted to be with the image he saw in the water.
I've thought of this story lately because I've been reading books that are critical of personal development as part of my research for an upcoming book.  I've noticed that one common criticism of personal growth ideas is that, by asking us to love ourselves unconditionally, they encourage us to be selfish — to focus only on our own finances, relationships and so on, and stop helping others.
I think this criticism stems from a misunderstanding of what self-love is, and I think it's important to correct that misunderstanding in light of all the negative comments we've been seeing recently about personal growth.  In fact, I think personal growth, in its highest form, is about moving away from narcissism — away from loving the image we present to the world — and toward loving who we actually are.  What's more, once we fully love ourselves, real compassion for others becomes possible.
Why We Fall In Love With Our Reflection
Out of necessity, when we come into the world, we're deeply concerned about how others — usually our parents — see us.  Because our survival depends on their willingness to care for us, we quickly learn which behaviors please them and which ones don't, and we shape our personalities to give them what they want.
Unconsciously, we carry this mindset into our adult lives.  We still think we need to win others' approval, and so we design our careers, relationships, hobbies, and so on to appeal to the world.  Like Narcissus, we get fixated on the image we present to the world, as opposed to who we actually are.
Because it seems like our survival is at stake, we'll do practically anything — including hurting others — to make sure the world sees us the way we want to be seen.  Our love of the image the world sees, instead of ourselves, leads to greed and abusive behavior.
What Real Self-Love Does
When we start to love ourselves unconditionally — no matter how others see us — the need to maintain the right image falls away.  Energy we once used up putting on a pretty facade can be used to care for others.  Helping people is no longer a strategy for looking like a good little boy or girl, or showing that we're morally better than someone else — it's now an expression of genuine compassion.
This is why, I think, we see a focus on self-love in many spiritual traditions.  For example, in Buddhist metta or loving-kindness meditation, the meditator is to focus first on loving him- or herself, and then to focus on the wellbeing of the rest of the world.  Similarly, Hindu teacher Sri Nisargadatta Maharaj told his students "by all means be selfish — the right way.  Be all; love all; be happy; make happy."
When we truly understand what self-love is and what it isn't, we can see why it's part of many personal growth teachings, and the good we can do for the world by creating it within ourselves.