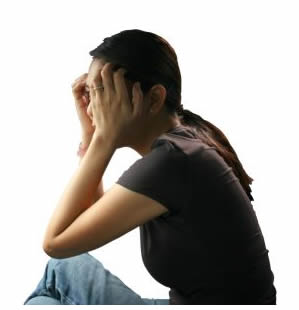 Do you think you need anxiety to get motivated at work?  Several people I talked to recently told me as much.  If they didn't worry about finishing their project on time, what others might say about their work, and so on, they think they'd never get anything done.  They'd just kick back on the couch, grab the remote and a bag of chips, and never get up again except to replenish their chip supply.
But is this true?  After all, surely we do many things that we don't need anxiety to finish.  We don't need to worry, for instance, to motivate ourselves to go see a movie.  We don't have to wake up at 3 a.m. in a cold sweat, fretting "oh, no, what if I never watch that movie?  I'll be a failure!"  Yet, for some reason, we think this kind of thing is necessary in our work.
Anxiety Causes Procrastination
Oh, but that's different, some might say, because watching a movie is fun and work isn't.  But does work have to be a drag?  Or does it only seem that way because we worry so much when we're doing it?  Could work be more enjoyable — and could we actually be more productive — if we let go of the anxiety we tend to associate with it?
Many psychologists suggest the answer is yes — that worrying actually creates more procrastination than motivation.  For instance, Dr. Joseph Ferrari studied how anxiety affected the test-taking habits of college students, and concluded that "students who have extreme anxiety are most likely to procrastinate, because it is more reinforcing to avoid the anxiety associated with studying than it is to study."
Similarly, in The Now Habit, Dr. Neil Fiore writes that "procrastination is a habit you develop to cope with anxiety about starting or completing a task."  And in The Tomorrow Trap, Dr. Karen Peterson says that anxiety causes procrastination because, when you're worrying, "so much energy is needed to control your anxiety that other thoughts cannot receive your full attention."
Watching Your Worry
It seems worrying isn't the motivational wonder drug we tend to see it as, and that it would actually help our productivity to stop doing it.  But of course, it's not enough for me to just say "don't worry, be happy," because our anxiety often seems beyond our conscious control.  So, here are a few ideas for gaining more control over work-related anxiety:
1.  Notice how you identify with your results. If we aren't careful, we can fall into the trap of believing we're "only as good as our next project" — that our value as people depends on our performance in the task we're doing at work.  If we're thinking this way, it's no wonder we're worried, because we believe a mistake or setback would make us worthless.  Becoming aware of this pattern of thinking is often enough to help us let go of it.
2.  Notice how you make a virtue out of worrying. Many of us, consciously or not, associate worrying with being diligent and caring about our work.  If we aren't worrying, we think, we must be bad or lazy.  Of course, this isn't true — freaking out doesn't get your project done better or faster.  Remembering this helps keep the compulsion to worry in check.
3.  Notice how you're breathing. Just as obsessing over possible problems can have us breathe shallowly, breathing in rapid gasps can contribute to anxiety.  When you find yourself worrying, see if you can slow down and deepen your breathing, and notice how that benefits your mental state.