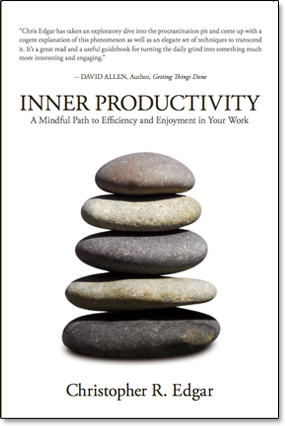 I'm excited to announce that my new book, Inner Productivity: A Mindful Path to Efficiency and Enjoyment in Your Work, is now available in both paperback and Kindle format.
The book is a compilation of the techniques and perspectives I've successfully used to help people find—you guessed it—efficiency and enjoyment in their work.   The book approaches productivity from a unique angle, using insights from psychology and mindfulness practice to help you stay focused and motivated.
I'll say more about the book, and give you a taste of what others have said, in this post.  More information about the book, including videos and interviews, is also available on a separate site I've created.
About The Book
As I'm sure you know, it's one thing to bone up on all the productivity "tips and tricks" out there—learning creative ways to make to-do lists, declutter your desk, hold shorter meetings, and so on.  It's quite another to actually stick with those techniques and make them work for you.
A major reason for this is that productivity techniques usually don't address the biggest obstacle to getting our work done:  our own minds.  If you find yourself mentally replaying an argument with your spouse, daydreaming about your next vacation, worrying about how big the bonus will be this year, and so on, simply knowing the latest "Top 100 PDA Hacks" won't do much to keep you on task.
A Deeper Look At Procrastination
What's really going on in moments when we find ourselves getting "off task"—becoming distracted or putting off your work?  In coaching individuals and groups on overcoming inner obstacles to productivity, what I've learned is that we often get off task because some inner experience—some thought or feeling—that we don't want to be with is coming up.
Here's a common example.  Suppose your boss assigns you a project, and you accept it but feel resentful that it wasn't given to somebody else.  Naturally, as you do the project, you feel the resentment, which shows up as a tightness in your shoulders.  Because you don't like that feeling, you distract yourself from it by checking e-mail, playing Minesweeper, or whatever your favorite procrastination technique happens to be.  Unfortunately, although you take your attention off the unwanted experience, you also get nothing done.
This is the "normal" reaction to uncomfortable inner experiences in our culture—procrastinate, take a drug to numb the feeling, go do something else, and so on.  In other words, we might say, we run away from ourselves.  The trouble is, of course, that we can't get any work done while we're fleeing from our inner experience.  And so we find ourselves spending large chunks of time accomplishing little, and feeling frustrated about it.
Accepting Your Inner Experience
Inner Productivity offers a different approach to dealing with these difficult inner experiences—allowing them to be, just as they are, without distracting yourself or pushing the experience away.  To understand what I mean, try this simple exercise.
The next time you're working, and you start experiencing some uncomfortable thought or feeling, try breathing deeply, relaxing your body, and just letting the sensation move through you.  Where you would have run away from the sensation before, see if you can stay with it and welcome it for a little while.
What I think you'll find is that the feeling actually passes away pretty quickly when you let it.  For instance, if you're feeling resentful about working, and you breathe deeply and allow that tense sensation to simply move through you, it's not like you'll stay angry forever—the tension in your body will relax, leaving you in a calm and focused state.
The more you do this exercise, the more you'll come to realize that the thought or sensation isn't actually dangerous to you, and you don't have to run away from it.  And when you understand, at a deep level, that you don't have to flee from your inner experience, you become able to stay on task even in the face of intense sensations.  You become able to calmly respond "yes, I'm feeling angry or sad or afraid, and I'm going to continue with this project."
The Yoga of Productivity
Yoga, one of the practices that inspired Inner Productivity, offers a good analogy.  People who are starting out doing yoga tend to assume that a pose is difficult because their bodies aren't flexible enough to get into it.  But interestingly, surgeons have found that, under anesthesia, the human body can bend in all kinds of ways we'd usually see as impossible.
In other words, the problem often isn't a lack of flexibility at all—it's that we don't want to be with the discomfort we feel while we're doing the yoga pose.  But as we ease ourselves into the pose, and realize that the sensations we feel while doing it aren't going to harm us, the pose starts to feel natural and even enjoyable.
We could think of the techniques in Inner Productivity like a form of yoga.  As with a difficult yoga pose, when we learn to accept, rather than flee from, the thoughts and sensations that come up as we work, working starts to feel more easy, natural and fun.  That's what I want for you, and that's why I wrote the book.
So, if you aren't getting enough out of conventional productivity techniques, and you're ready to take a deeper look at what's really holding you back in your work, I think you'll find Inner Productivity eye-opening and valuable.
I was amazed at the enthusiasm and generosity of the authors I asked to provide advance quotes for the book.  Here's a sample:
"Chris Edgar has taken an exploratory dive into the procrastination pit and come up with a cogent explanation of this phenomenon as well as an elegant set of techniques to transcend it. It's a great read and a useful guidebook for turning the daily grind into something much more interesting and engaging."
– David Allen, bestselling author of Getting Things Done: The Art of Stress-Free Productivity
"Inner Productivity will show you how to clear your inner clutter and create a pathway to success!"
– Marshall Goldsmith, bestselling author of What Got You Here Won't Get You There
"Real productivity doesn't come from forced behaviors. Inner Productivity can help you connect with the inner state of being that can empower you to act in new ways, choose new perspectives and have a different experience. There is no greater productivity than connecting with your true self."
– Tama J. Kieves, bestselling author of This Time I Dance!: Creating the Work You Love (How One Harvard Lawyer Left It All to Have It All)
"Inner Productivity is packed with practical examples of how to achieve greater results and peace of mind at work."
– Laura Stack, bestselling author of Leave the Office Earlier: The Productivity Pro Shows You How to Do More in Less Time . . . and Feel Great About It
"A wonderful guide for organizing both your physical and your head space."
– Peter Walsh, bestselling author of Enough Already!: Clearing Mental Clutter to Become the Best You
Order The Book
You can order the book in either paperback or Kindle format—I've posted the links below.  (Note:  If you see an "out of stock" notice on the Amazon page for the paperback, don't worry, it's still available — just click on the "2 new" link and order the book from "Cruzado Press.")
Print Edition

Kindle Edition

I've also created a separate site with more information about the book, which you can view here.
Reviewers Wanted
I'm always interested in constructive feedback on my work.  If you'd be interested in reviewing my book on your blog, please let me know, and I can provide you a copy in paperback or electronic form.