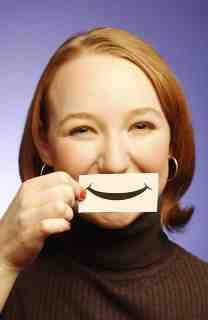 Like many people, finding happiness used to be my goal in life, and as an avid consumer of personal development products I learned a lot of techniques for getting there.  You've probably heard many of these:  think positive thoughts, force yourself to smile, take a warm bath, and so on.
For a while, I diligently used these methods, and at first they did a fairly good job of perking me up when I fell into a funk.  But pretty soon, I noticed that using these techniques was starting to feel like a big effort.  Constantly countering negative thoughts with positive ones, "turning my frown upside down," and so on, began to consume a lot of time and energy.  And I started wondering:  is happiness worthwhile if I have to work so hard for it?
From Rejection To Curiosity
When I started getting deeper into mindfulness practices like yoga and meditation, and really noticing what was going on inside me, my perspective on happiness began to change.  What I began to see was that my emotions are really just sensations I feel in my body.  For example, sadness for me is a heavy feeling in my stomach, and anger is a heat and tightness in my lower back.  (These words may mean different sensations to you.)
Another thing I started noticing is that, once I began seeing my emotions as simply physical sensations, they didn't seem like such a problem anymore.  Before, when I'd start experiencing that heaviness in my stomach that I called "sadness," I used to resist the feeling, telling myself "come on, chin up, there's nothing to be sad about."  My shoulders and my stomach would actually tense up as I tried to push the feeling away.
But today, when I get that feeling, my reaction is more like curiosity than rejection—"oh, it's that sinking in my belly again," I'll say to myself calmly.  And when I have this curious perspective, I start noticing things about my sadness that I never saw back when I was trying to squelch it.  For instance, I notice that the heavy feeling seems to have a particular shape, color and temperature, and that it doesn't just sit there—the energy actually moves around quite a bit before it fades away.
Most importantly, when I stop treating sadness as a problem, acting in spite of how I'm feeling becomes much easier.  When my attention is no longer focused on how awful it is to be sad, how I'd rather feel better, and so on, I can start actually thinking about what I want, and going after it, despite the sensations I'm feeling in my body.  Sadness, and other so-called "bad moods," don't have to paralyze me anymore.
I'd Rather Be Peaceful Than Happy
Today, I think of my goal in life as peace instead of happiness.  No matter how amazing my life becomes, I'm probably going to have "negative" feelings from time to time, and when those emotions come up I want to calmly allow them and even be curious about what they have to offer me.  I haven't got this down completely—I have moments when I find myself fighting my emotions and telling myself I should feel differently.  But when I'm able to be at peace with whatever experience I'm having, life becomes a lot easier.
Of course, if techniques for making yourself happy are working for you, more power to you.  Everyone's mind and body is unique, and different approaches work for different people.  But if trying to make yourself happy is feeling like a lot of frustration and work, I invite you to try something different for a moment.
When you feel unhappy, instead of resisting the feeling, try focusing on how that unhappiness feels in your body—like I talked about with the sinking feeling in my stomach.  What sensations tell you that you're unhappy?  Notice how just asking this question changes how you relate to what you're feeling.  Instead of being something threatening that you need to push away, your unhappiness becomes an object of curiosity.  And the more you inquire into it and understand it, the more peaceful and composed you can be when it comes up.
Link Love:  I want to spotlight Duff McDuffee's new blog, Beyond Growth, which looks like it will be a welcome step forward in the evolution of personal development writing.  I thought about Duff when I was doing this post because I was saying something kind of counterintuitive and his writing often does this as well.