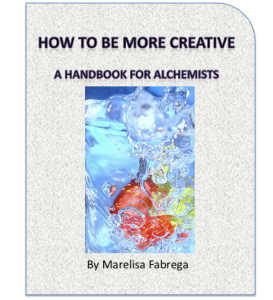 I'm pleased to share my interview with Marelisa Fabrega, the author of "How To Be More Creative: A Handbook for Alchemists."  Marelisa, whom I'm sure many of you know already, is an attorney and blogger living in Panama.  Her book is brimming with perspectives and techniques for stimulating your creative instincts.
In this interview, you'll learn:
* How meditation can inspire your creativity;
* Why improving your creativity can benefit you, no matter how routine or mundane the task you're doing might be;
* How writing down your nagging, repetitive thoughts can put them out of your mind;
* Why thinking about random words as you tackle a problem can help you come up with new ways to solve it;
* How setting a clear intention is a powerful tool for generating ideas;
* Why believing you're a creative person (or not believing it) can be a self-fulfilling prophecy;
* And more . . .
Download the Interview (MP3 file; 19 mins.; right-click and select "Save As")