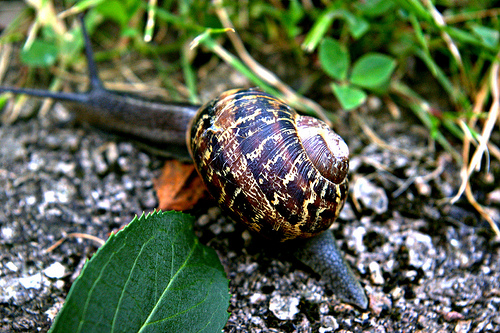 I have a friend who's an avid gardener, and she has fun doing things many people would find unpleasant or even disgusting.  One example that stands out for me is that she enjoys removing snails from her flowers and vegetables by hand.  True, she's wearing gloves when she does it, but still I think a lot of us would find it hard to believe someone could love gardening enough to actually like snail-picking.
Watching her do this recently got me thinking.  Many of us see certain tasks we have to do in our work and other areas of our lives as inherently boring or unpleasant.  Doing your business's taxes, cleaning your desk and drafting invoices are examples of work people tend to see as, at best, necessary evils.  They're awful, but you have to do them to keep your job or business going.
A Matter Of Perception
But is this true?  Are the tasks themselves awful?  Or do we simply experience them as awful?  And, if so, is it possible to experience them differently?  After all, if my friend can have fun snail-picking—something many of us wouldn't even do for large amounts of money—doesn't that suggest it's possible for human beings to enjoy doing almost anything, if we have the right mindset?
I've noticed, both in my own self-inquiry and in working with others, that we can transform how we experience doing something if we develop an understanding of why we see it as painful or difficult.  That is, don't just take it for granted that doing something is awful—ask yourself why you feel that way.  That kind of understanding, by itself, can shift our perspective, and make things we hated to do before start to seem tolerable and maybe even enjoyable.
Reaching this kind of understanding involves simply doing the task you dislike, noticing whatever thoughts and feelings arise as you do it, and getting curious about why you're having that experience.  If you find the task so unpleasant that you can't bring yourself to do it, try visualizing yourself doing it—that will probably be enough to bring up whatever thoughts and emotions you associate with it.
Listening To Boredom
Let's look at how this process works in the context of boredom.  We tend to think of boredom as a simple emotion that happens for obvious reasons—"I get bored when I'm not doing anything, or doing some dull activity like organizing my file folders."
But when we become willing to let ourselves "get bored," and closely examine what we're feeling and thinking in those moments, we find that boredom actually isn't simple at all.  What we call boredom is really a complex bunch of ideas and emotions that's unique and deeply personal to each of us.
If I find myself getting bored, for instance, and I take a close look at what I'm thinking and feeling in that moment, what I usually find is that I'm having the thought "I'm not accomplishing enough right now."  And I'm feeling frustrated and despondent, and my shoulders are tensing up.  That is, when I look closely enough, I see that what I'm feeling in those moments has very little to do with the specifics of my work, and that it's actually pretty complex and nuanced.
If I look even deeper into my experience, what I notice is that the sense that "I'm not accomplishing enough" isn't only with me in moments of boredom—it's in the background, subtly nagging me, most of the time.  This realization has helped me take the belief "I'm not accomplishing enough" less seriously.
When I'm having that thought, I now understand, it's not because I'm being lazy or the work I'm doing is inadequate.  No matter what I'm doing—even if it's the most important and dedicated work I've done in my life—that thought is still there.  Eckhart Tolle aptly describes this kind of feeling in The Power of Now
as "the background static of perpetual discontent," which is "easy to overlook because it is so much a part of normal living."
In other words, it's just a deeply ingrained aspect of how I see myself and the world, and the more conscious I become of that, the less suffering it can cause me.  Now, when it comes up, I can simply tell it "thanks for sharing," and continue what I'm doing.  And I came to this self-understanding just by getting curious about why I found myself feeling bored sometimes.
My point is that, if we take a moment to sit with the feelings of boredom, anger, or whatever else that come up in our work, and stay curious about what they're doing there and what they have to teach us, we can transform our relationship with our work.  Not only can we become able to tolerate tasks we used to avoid before and increase our productivity, but we can learn a great deal about ourselves.