Friday, October 3rd, 2008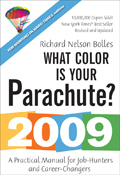 For a little departure today, I'm going to offer my take on Richard Nelson Bolles' What Color Is Your Parachute?
, the undisputed heavyweight champion of the career advice genre.  Parachute has sold over nine million copies since its 1970 debut, is still updated annually, and is the most popular book on job hunting and career change in the world.  In addition to giving you what's likely a unique perspective on the book, I'll use this review as an introduction to my way of thinking about career satisfaction for those coming to it for the first time.
As I discuss here, Bolles is squarely on target when he suggests that the best way to find career satisfaction is to learn more about yourself—your personality, what you love to do, how you relate to others, and so on—and to focus on developing your character and values.  Bolles' wisdom shines through most clearly, I think, when he discusses career satisfaction from a spiritual perspective.  Bolles is a former Episcopal minister, but his most important spiritual message is universal:  use your search for career fulfillment as a path to greater love and understanding of yourself and the world.
Bolles is further from the mark where—in keeping with the standard approach to career writing—he recites lists of "tips and tricks" readers are supposed to use to persuade employers to hire them.  These techniques range from making sure, in a job interview, that you and the interviewer each talk for about 50% of the time, to ensuring that you memorize and ask five key questions in every interview.
Focusing on applying techniques like these during an interview, or really in any other situation, creates anxiety and discomfort, and ultimately doesn't help you project the confidence and "togetherness" the techniques are supposed to show.  More importantly, knowing yourself and developing your character—as Bolles himself seems to understand—are better strategies for finding career satisfaction than any rehearsed lines or body language.
Parachute's Greatest Gifts
I'll start with the valuable lessons Bolles offers us about career satisfaction, and there are many.  As there isn't space to go into all of them, I'll discuss what I see as his three most sage pieces of advice.
1. Focus on using the skills you love. Much of today's career advice recommends picking a career that emphasizes what you're best at.  If you're a great writer, for instance, look into law or journalism; or, if you're good at math, consider engineering.  There's also a lot of news and advice out there about which career areas are "hot"—that is, which ones have the most available or high-paying jobs—and the kinds of businesses it would be most lucrative to start or invest in during the near future.
Bolles gives us an inspiring alternative to these approaches:  seek out a career that lets you use the skills you love.  As he puts it, "the best work, the best career, for you is going to be one that uses your favorite transferable skills," not one that's trendy or that you happen to be competent at.  For example, law may be a high-paying profession, and you may have the sort of verbal facility that's prized among lawyers, but if making quilts is really your favorite thing to do, at least look into whether you can make a go of it.
As Bolles recognizes, the mere fact that you're good at using a skill doesn't mean you can make a successful and fulfilling career out of it.  If you can do a really immaculate job of mopping the floor, for instance, but you lack passion for mopping, you won't stay happy or motivated for long cleaning for a living, and no amount of money or recognition from your superiors is likely to change that.  In other words, "do what you love" isn't just a lofty ideal—it's sound, practical career advice.
I'd actually take Bolles' perspective a step further by observing that, even if you don't love using a certain skill right now, you may be able to transcend your discomfort with it.  The set of skills you enjoy applying, in other words, isn't necessarily fixed for life.  This perspective is particularly important for people who feel called to take a given career path but feel uncomfortable doing what's necessary to succeed in it.
For example, suppose you want to start your own business, but you feel some anxiety when you imagine promoting your products.  Your anxiety about self-promotion doesn't necessarily need to keep you from becoming an entrepreneur—there may be a practice, whether it's meditation, conscious breathing, NLP, or something else, that can help you let go of your fear.  In other words, if you're feeling uncomfortable with the idea of pursuing your true calling, there's likely inner work out there to help you dissolve that discomfort.
2. It's okay to enjoy what you do. It may sound obvious that liking what we do for a living is a good thing, but many of us, consciously or otherwise, have reservations about taking pleasure in our work and living in general.  As Bolles writes, "the reason why this idea—of making enjoyment the key—causes such feelings of uncomfortableness in so many of us is that we have an old historical tradition in this country that insinuates you shouldn't really enjoy yourself in life.  To suffer is virtuous."  If we want genuine satisfaction in what we do, we naturally have to accept that it's okay for us to love our careers.
How do we locate the places where we're convinced it's not okay to enjoy our work, and get comfortable with feeling passion for what we do?  My take is that the thoughts and behaviors that keep us from enjoying what we do are often defense mechanisms we develop to protect ourselves against pain.  Some somatic psychologists suggest that, when we experience trauma or intense sensation, particularly when we're very young, we often adopt ways of moving our bodies that numb us to how we're feeling—perhaps, for instance, by holding our breath or tightening our muscles.
We quickly become so accustomed to using these strategies that they become automatic and habitual.  As we unconsciously fall back on them whenever intense sensation comes up in our bodies, we often find ourselves numbing our feelings in response to passion and joy as well as in reaction to suffering.  Thus, we not only protect ourselves from pain—we shut down our ability to feel joy and aliveness in our careers and elsewhere.
One technique I find useful for noticing, and letting go of, these ways of numbing ourselves to feeling is simple:  just pay close attention to your breathing and the sensations in your body when you feel happiness arising in you.  Notice any muscles you're contracting—perhaps by tensing your jaw, clenching your fists, tightening your stomach, or something else—to limit the joy you can feel.  See if you can keep your breathing steady and deep, simply allowing any intensely pleasurable sensations to wash over you and pass away.  You may find yourself experiencing a passion for your career you didn't think was possible.
3. Appreciate the process, not just the products, of your work. In our culture, when we think about our careers, our attention is usually on the tangible things we can get out of them—the money we earn, the possessions they help us acquire, the prestige they give us among peers and friends, and so on.  We aren't normally as focused on enjoying the activities we do while we're working.  Too often, we see those as a necessary evil we must endure to get the perks we want, and we spend much of our workdays eagerly awaiting the moment we can leave.
When we rely entirely on the things our careers bring us for fulfillment, instead of learning to enjoy the process of working, we're often left disappointed.  You likely know more than one person who reached the pinnacle of their career, whether in terms of money, status, seniority, or something else, and found themselves asking "is this really all there is?"  The despair this realization creates can be intense—celebrities and wealthy people who, despite their success, use drugs and alcohol to "take the edge off" come to mind.
Bolles wisely emphasizes the value of learning to take our work one step at a time, and actually love what we're doing moment by moment, in addition to enjoying the fruits of our labors.  As Bolles puts it, "your Mission is to take one step at a time, even when you don't yet see where it all is leading, or what the Grand Plan is, or what your overall Mission in life is."
One question Bolles may leave in readers' minds is how we can learn to appreciate each moment we spend working.  To many of us, it seems obvious that it's best to enjoy and participate fully in each moment of our lives, but we nonetheless find our attempts to "live in the Now" blocked by frustration, distraction and anxiety.  I'll describe three techniques I've found useful for helping people stay focused on, and even enjoy, the routine tasks they do while working.
Take your attention off your self-image. We tend to obsess over the money, prestige and other perks our careers can bring us when we're fixated on the image we project to others.  When our minds are on the perks we can get out of our careers, in other words, it's often because we're thinking about the ways we want to impress or please other people, and worrying about how making a mistake would affect others' opinions of us.
If you find yourself doing this while you're working, see if you can instead turn your attention entirely to the activity you're doing.  Become as aware of each movement you're making, each detail of what's in front of you, each rule to be followed, and every other aspect of your task, as you can be.  See if you can absorb your attention in your work so deeply that it's almost as if, for a time, you "merge" with your work, and the work begins to do itself.
When you enter this meditative state, which psychologist Mihaly Csikszentmihalyi famously called a state of "flow,"
you may find appreciation for what you do arising naturally.
Bring your awareness into your body. We're often prevented from fully focusing on and appreciating our work by distracting thoughts about the past and future.  These thoughts are often either painful memories or anxiety scenarios about things that might go wrong in our lives.  Enjoying what we're doing, moment by moment, becomes difficult when we feel besieged by this sort of thinking.
One way to return your attention to the present moment is to focus your awareness on what you're feeling in your body.  Notice, for instance, the steady rise and fall of your breathing, any tension you may be holding onto in your muscles, any tingling or prickling sensations you may feel on the surface of your skin, and so on.  When your attention is on how you're feeling in your body, your awareness will naturally rest in this moment, because every experience you're having in your body, by definition, is happening right now.
This practice can help curb the thoughts that would otherwise keep you from enjoying the experience of working, and bring more satisfaction and productivity to what you do.
Focus on the contribution you're making. Another way to cultivate appreciation for your day-to-day work is to keep in mind what you're contributing to others with what you do.  In almost every moment you spend working, whether you're aware of it or not, you are making a contribution to another person or group of people in the world.  Perhaps you're participating in creating technologies that make people's lives easier, helping customers find the products and services they want, giving moral support to your coworkers, or something else.
This, I've found, is another useful tool for reconnecting with feelings of joy and aliveness in your work.  When you recognize that you aren't just working for your own fulfillment—you're helping others find the same in their own lives, and making a positive impact in the world—you'll likely gain access to an appreciation for working you may have been missing before.
(This is Part One of a two-part review.  Click here to read Part Two.)
Related posts: